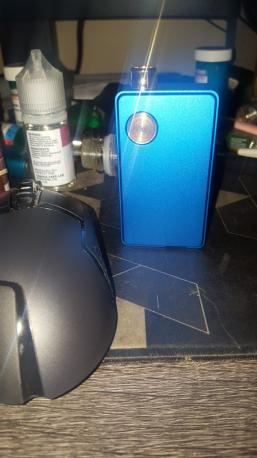 'sprettygud
I said I'd write a legit review of it after the first battery, but I've been using this since around 3pm yesterday frequently and it's now 624am and the battery indicator went from Green to Blue. So .7 coil and about 3mls of juice will last you at the soft setting of 17 watts for quite some time.
awww it is too cute!!! and that drip tip!!
remember, Joel… keep the tip wrapped!!

Hope you are enjoying it…

about 4 tanks in (roughly 12mls), coil still tastes good… This was the main thing I was concerned about coming from using the Orion Q mainly, their pods don't have very good longevity
Is that a rebuildable coil, @Joel
No, but there will be an RBA section a little later in it's time on market
The coil I'm using is a Nautilus 2 coil at .7ohms and works great