Numerous people including myself have lost there avatars! Where are they
Lars suggested the gravatar site but when I went there nothing happened
I've no idea - but I'm sure they'll show up soon

I update the forum software almost every day…
Glad to know it's not just me that can't see them. I figured it was something wonky with my settings since I've switched browsers a couple of times.

This inspired me to upload my own, I like this one much better than the 5
It's been at least 2 or 3 months now that I only see some avatars. I believe the ones I see are those that were established on ELR before the Gravatars began being used. I use Avast antivirus and avast is finding a problem with the website that the gravatars are coming from. Avast has blocked the gravatars. I really wish I could see all avatars cause it's quite annoying. We often get to know people by their avatar…
When I started at ELR, I thought Gravatar was the only way to have a non generic avatar. I wasn't familiar with Gravatar, so I did a search, and there were enough negative comments on them, that I decided to just stick with my generic, D avatar. When I saw that my generic D was gone, it made me look deeper into my profile settings, and I discovered I actually could upload my own avatar (Duh!).
And you even get another "badge" for doing so (updating your profile).
I don't know what badges are good for yet?
I think they are for tracking your accomplishments on the forum. I think the more you accumulate the higher your trust level goes and you gain more access on the forum. I'm hoping to get one I can use as a title!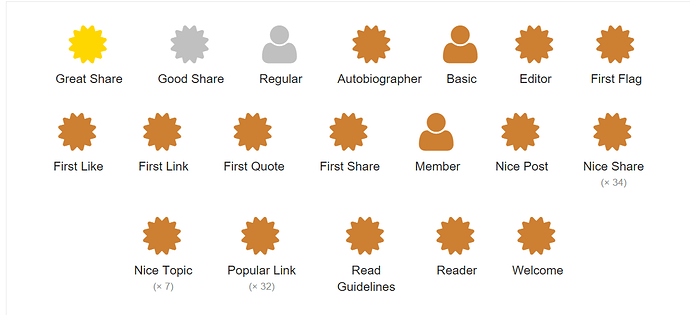 If you get first flag, is that good or bad?
I flagged a spammer and earned that one.
That's a good thing then, suppose it all depends on being the flagger or the flaggee


I'll be on the hunt now, I want that flag!
I pity any spammers or other potential flaggees that wander in here now. The flagzookas are locked & loaded!