Hey everyone! Today I am bringing to you all a review of the Lost Vape Furyan Mechanical Squonk Mod! This mod was sent to me, free of charge, for this review from HealthCabin, despite this, I will give my true and honest opinion of this product.
First, I must start by making a disclaimer advising anyone who is interested in using a mechanical mod that they are intended for use by only those who are knowledgeable of ohm's law and battery safety.
With that being said, let's have a look at the goods!
As most of you know, Lost Vape is a company that holds making and providing quality vape products to vapers in high regard, therefore, I expect nothing less from their very first mechanical squonk mod! From the first moment I opened the package it came in, quality is the exact impression that I got! I do have a few things that I am displeased about, and I will share those later, but my first impression of the Furyan mech squonker is that this is going to be a great device!
Packaging:
The box the Furyan comes in doesn't just provide a package to cover the device, but, as can be seen, it also provides a sort of a presentation of the device to the buyer who opens it! The box is first covered by a sleeve that will be taken off to reveal the presentation box inside.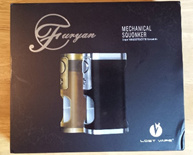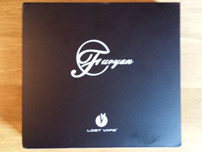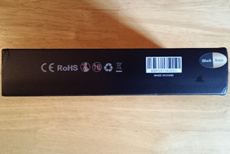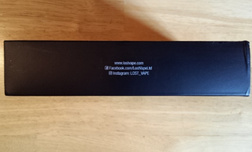 The box inside the sleeve is a very nice box that slides open like a drawer to reveal the goodies inside!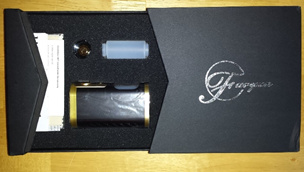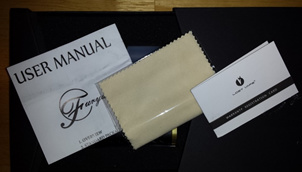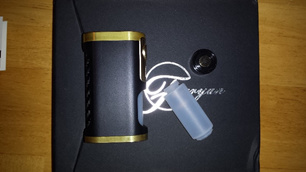 Included in Package:
1 x Furyan Device
1 x Furyan User Manual
1 x Lost Vape 6-month Warranty Registration Card
1 x Brass Polishing Cloth
1 x 18650 Battery Adapter
2 x Soft Silicone Squonk Bottle
This is a good-looking device, but one of the very first things I noticed that I don't like is the fact that the plate on the front where the fire button and locking switch are located is not brass, but gold in color, which does not match the brass color and is very noticeable. As can be seen from the images below, it doesn't matter if it is viewed in regular light or not, it is still very noticeable, so for those of you that are vape vain, you may want to consider the black/silver option.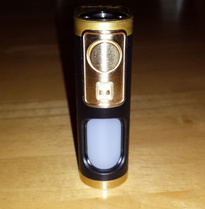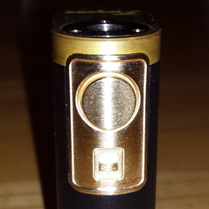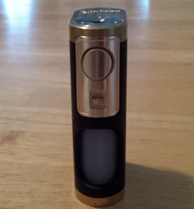 Specifications:
84mm x 50mm x 27mm
Stainless steel 510 atomizer connector
Spring-loaded, nickel-plated brass center pin
Silver-plated copper positive/negative battery contacts
Squonk bottles: Soft silicone holds 9ml of eliquid
Device body material: ULTEM, Brass, and Stainless Steel
Available in Yellow ULTEM/Brass, Black ULTEM/Brass, Black ULTEM/Silver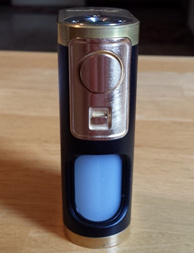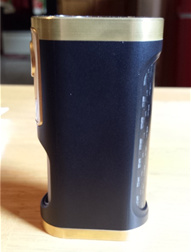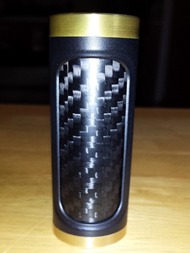 The Lost Vape Furyan is a mechanical squonk mod that is compatible for use with single 18650, 20700, or 21700 batteries. Being a mech mod, the design is basic, with a fire button and locking mechanism right below. The squonk bottles that this mod uses are amazing! They are made of soft silicone that allows for easy squonking and they hold a massive 9mls of eliquid, but the bottles are not like other squonk bottles. And although the contents say that it only comes with two bottles, I got a surprise when I opened the battery compartment for the first time, because there was another extra bottle in there and it was black!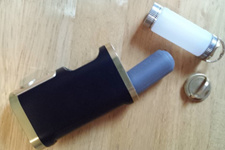 Another mention is that the bottles have special metal tops and bottoms that must be changed to change the bottle.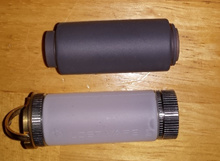 Also, the battery compartment is separate from the bottle storage area inside the mod. There are no discernible battery ventilation holes anywhere on the mod, however, I suspect that the battery tube, which appears to be made of hard plastic, would most likely melt if a battery did go into thermal runaway.
The battery is held in the battery compartment by a circular door that screws into the bottom of the mod after the battery is put in. The squonk bottle is placed into another compartment, but the bottom is not threaded, rather it uses a locking mechanism to hold the bottle into place. Both threads, and the locking mechanism are flawless in the way they work.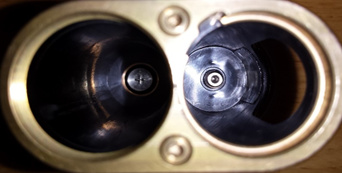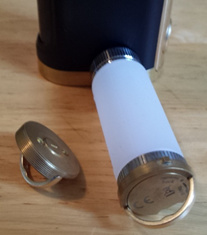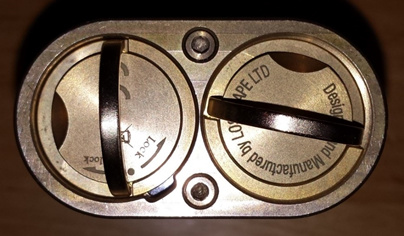 The 510 threading is just as smooth and well-machined as the threading on the battery compartment door.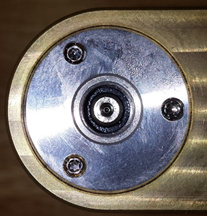 Now I want to speak on the choice of metal used on this mod. Brass consists of copper alloyed with nickel, which results in a metal that is extremely durable, can resist corrosion easily, and is also antimicrobial. However, I think it should be mentioned for those who are not familiar with brass that it will tarnish, or patina, over time. Tarnish develops because the copper that is in the metal mixture corrodes with various chemicals. Many chemicals can be transferred through touch, therefore, touching the brass on this mod will most likely leave brown fingerprints that may look permanent and be difficult to wipe away because of the oil and salt that our hands leave behind. Sometimes it will take a couple of days for the fingerprints to show up, so don't be surprised if you haven't used your Lost Vape Furyan Mech Squonker in a few days and it looked clean when you put it on the shelf, but when you go to use it again it has some ugly looking brown fingerprints all over it! However, there are ways to restore the original shine to the brass. One way is to use a mixture of ¼ teaspoon salt, ¼ cup of vinegar, and add enough flour to make a paste, which can then be rubbed onto the brass to remove the patina from its surface.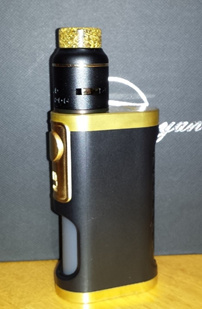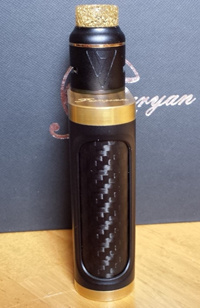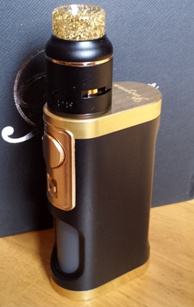 Now, about the performance and my final thoughts of the Lost Vape Furyan Mechanical Squonk Mod…
First of all, it is a beautiful mod, despite my annoyance with the brass and gold not matching. Also, I love the squonk bottles that are included…they are just the right amount of give and take that I like with squonk bottles. The threads throughout this mod are buttery smooth and could not be improved upon in my opinion. The craftsmanship is what we have come to know and love with Lost Vape products.
Now, with this being said, in my opinion, the performance of this mod is not up to par. Hell, its not even up to triple bogey…I'm sorry, I really wanted to love this mod. I was so excited about receiving this mod for review. I saw other's reviews of it and they loved it. I myself was nothing if not wowed by it, up until I put a 20700 in it and my Mad Dog V2 RDA with a fresh build on top and hit the fire button. I tried several different batteries and rda's to no avail. I don't know what the problem is, maybe I got a bad one. The reason I say this is because I must press the fire button super hard to get it to fire, and then it barely gives me a decent hit, then at other times, it seems as if it is working perfectly. I thought, well maybe it isn't getting a good contact inside, so I took it apart, checked it out, and there isn't anything that I can see that is the problem. I'm not an idiot when it comes to mechanical innards, but I am not a professional either. It's a simple mech mod, so it isn't rocket science, but I wasn't able to find a permanent solution. I didn't see anything that stood out as being the culprit keeping this mod from working properly, and I did bend the metal behind the fire button out a bit, so it would be pushed further when the fire button is pressed enabling it to touch the battery contact a bit easier, and when I put it back together, it worked better for all of five minutes and then went back to its usual routine of barely giving me a decent hit. I took it apart several more times to try to analyze a problem and fix it, but I finally gave up. This mod is now just another decoration on my shelf of misfit vapes.
Sorry Lost Vape…I wanted to love this mod, but it was the biggest let down of any mod I have owned thus far…
I still believe in Lost Vape as a company and I will continue to use their products. Like I said, maybe I got a dud, but my experience with the Furyan Mech Squonk Mod was not pleasant and I cannot recommend it to others.
I want to say thank you to HealthCabin for sending me this mod for review, and also, thank you to all of you who take the time to read it!