If I mix a 50 mg nic salt with a 35 mg nic salt, how strong will it be??
Hello @Chris_Jones , welcome to ELR!
Have a look around, there are many helpfull ressources and posts available.
To your question: It depends on the ratio between the two concentrations you use. If you mix it 1:1 you will get 42,5 mg nic/ml.
So mixing 30 ml with 30 ml will make it 42.5 mg strength??
I was trying to find an app for calculations for diluting
Welcome to ELR @Chris_Jones
Calculator.net is a very useful tool👌
Average Calculator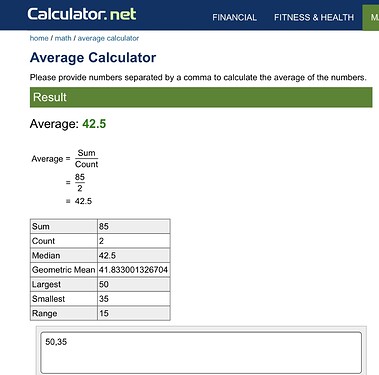 Another useful tool, for recipe adjustments is @CosmicTruth's Flavor Adjustment Calculator

Welcome and glad you joined.
Thank you… much appreciated
Easy equation for 1:1 ratio is add a+b then divide the sum by 2.
Thanks you, much appreciated
Welcome to ELR @Chris_Jones. @Letitia broke out the easy math, for any future NIC mixing, at least in a 1:1 ratio.
Yes… someone answered the question already, but thanks.
Thats true if your adding up apples…
50 + 35 / 2 = 67.5
(You not gonna increase your Nic by adding in a weaker percentage)
If your adding two Dilutions together, and you wanted to find the final concentration you would need to use the formula for molarity:

Or just use an online calculator

Btw @SteveTC had the correct answer, 42.5
85 ÷ 2 =42.5
Before mixing I stepped down from 24mg gradually using this equation with commercial juices quite successfully.
Oh yeah hehe… I did the same thing when I started on commercial juice

and your right, at 1:1 ratio it works out the same