Good morning all, been around awhile just reading etc… DIY experience I've attempted to diy could of yrs ago. Unfortunately, I wasn't 100% serious about it.
However in the last couple of months, I've made the decision to put in 100% so glad I have, I've put together several recipes according to some of the highly rated ones. Goofy's Juice, Addy's Custard,Simple vanilla doughnut & strawberry fog maybe a couple of others.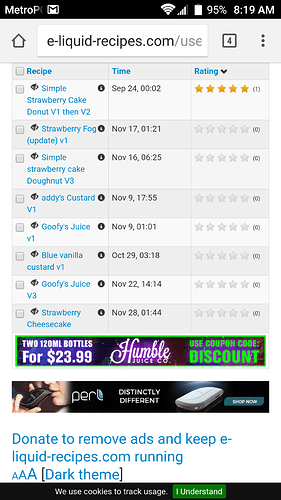 Was wondering if y'all can give me a hand finding some simple 3-4 flavor Recipes ? That I just can not seem to find according to my flavor stash as a (What can I make) and also by picking individual concentrates,and just seem to be hitting a roadblock. I max VG other than the PG in the concentrates. I made my flavor stash public so all can see what I'm working with. I enjoy fruits,bakery,custards just about anything that sounds appealing. As you'll see I mostly have strawberries, blueberry, black currant etc… as fruits. So I currently do not have lots of fruits but I'm ok with that as of right now.
Thank you all in advance and it's my pleasure to be surrounded by experienced Mixologists and your advice.