It's age restricted, can't watch it. Although I think I'd be old enough.
Well, it's age restricted lol I can't watch it. Do you have the link?
I watched it. I wasn't even aware you had a channel. New Sub

I also watched your video of Mikes recipe with aged bourbon cream. I'll have to mix some up.
@authormichellehughes I love your passion! Great video. I added comments and I'm so happy you thought of doing this.
Maybe people can add their own brief testimonies. Just a thought if it would help. (just not me, I'm camera shy)

That was powerful! Well done Michelle!
I finally cracked this ''age restricted'' nonsense.
Add nsfw before "youtube" in the video link and press the " Enter" key, the video will play normally on the new page. (the solution found here)

Hehe VERY NICE @Mikser. I felt very bad for you and your age restricted woes, but didn't really have time to help you out. I was unaware of the NSFW fix, but, congratulations, and I'm glad your hard work, paid off.
LOL @mikser, now THIS was UN-expected !!!

Funny thing is that we don't have illegal watching videos about vaping, but at the end i felt i am the only one not able to watch them. rofl
I'll be honest, I don't post near as much as I should but thank you for watching <3
I would absolutely love to get a ton of testimonials
Thank you, I hope it reaches someone who needs it.
Good find. I used to be a HTG member until they dispersed the forum and moved it to FB

The thing with age restrictions on the internet is that it shouldn't even exist. Every person under the legal age to get an internet connection was provided with an internet connection by an adult. These adults obviously don't give a shit about the things their kids do on the web so but still have a spark of responsibility in them so they ask for age regulation online so they can keep spending their time on other things than their own kids.
What's next? Daddy sues BMW because they didn't protect his car from being used by his 14 year old to have a ride around the block?
just tried it, didn't work. but, there was nothing after .com
Weird. It's working for me. https://www.nsfwyoutube.com/watch?v=ZkayT93bp1s
It opens new page (not YouTube)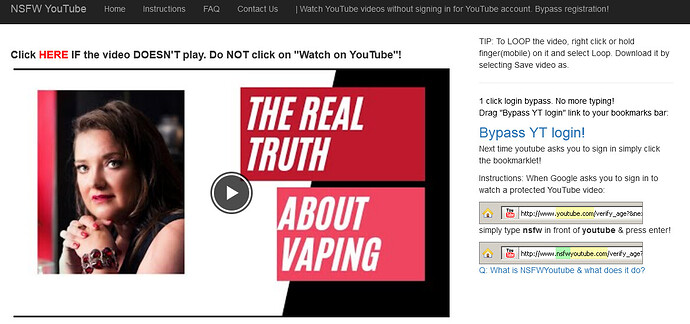 And then you have to click HERE (in red)
(Click HERE IF the video DOESN'T play. Do NOT click on "Watch on YouTube"!
If it doesn't work, they you can try with embed - replace '' watch?v '' with '' embed/ '' (this one didn't work for me)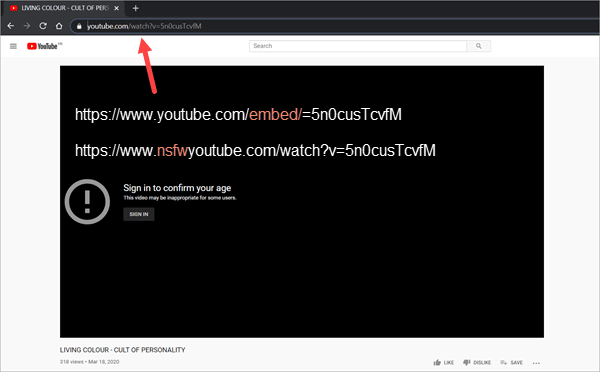 [quote="Mikser,
It opens new page (not YouTube)
it did. it show scantily clad smok'n hot cartoon chicks, lol, for real.
watch?v=ZkayT93bp1s < it didn't show this