https://ci3.googleusercontent.com/proxy/5JO1fL7ipkS7B3F7-nsdaM39Eo0Wse7FAXnCL27clbWN6JuFG3TuUgGRhkK5Pi4nmy-RWKECbSgEK7DEt9WwoJn0zEUAUBCG1mgr0uK36P1TtRn7Al2W2IxLvAMefruL-TK8Hbia1QYAYdqYYA37y1TP7zyP2Rt9Kv8BbwMTd3eFRciugyWk5Q=s0-d-e1-ft#http://imagecloud24.pl/userfiles/rvfu4cbevk/SESAME_SWEETS.jpg?t=1484732454366&sum=d36a0da0d8e412523be2a38d74e0127f
https://ci6.googleusercontent.com/proxy/5orrhVyAJC4U3KP-YRHxMfayOgNfD-_sUcQRuVBbpIaVTE6gcVcja6NLGPPe_KEEpfbK0b2zEZ-1c0INA6DIfCXnfJzObMOrIdYtTPkTxDaaU577kRKH9omSQARdMButz5qM7YeeZQk9cYHEQmmclXyaZwlAf6KRASLGEX8NF1FSiH17NEeXkA=s0-d-e1-ft#http://imagecloud24.pl/userfiles/rvfu4cbevk/VANILLA_CREAM.jpg?t=1484732454367&sum=72c626e7c9e9c2d8c264e2482d7b05fa
I have a feeling once a few people try the Sesame Sweets concentrate and post reviews, it will become a popular concentrate in bakery/savoury recipes.
it is the first one that caught MY eye
Works well as a standalone, but the can see it working in doughnut/cake mixtures. Has a lovely buttery note, with a hint of burnt/toasted biscuit and a slightly doughy taste to it.
I really like this concentrate and hope it takes off, as I really like working with this one and it has lot of potential in DIY mixes I feel from my early testing.
I once vaped a good sesame e juice and never could remember who made it. I'd like to try samples of all of these but I'll wait and see if they make it over to the U.S.
I have sweet woodruff by Jungle Flavors avail. @ ECX it is very different I love it but it won't be for everyone. Floral backnotes of vanilla blends w/ fruits very well thou. http://e-liquid-recipes.com/flavor/43217 should you want to test it out before delving into INW's which I have a feeling will be wildly more concentrated and have more of a floral aspect just a feeling since some of their newer stuff has been more floral like Purple rain.
Airwaves to me will be a knock off of Monsoon which is a darkberry mix with a juicy fruit / tutti fruitti splash to it.
Summer feelings ??? hmmm Summer Clouds FA ??? fruity mix floral backside.
Summer Feelings make you like:

how is it you have worked with it already? it just came out.
i love those sesame treats ( the real ones ) havent tried the flavor
I am a tester for the new flavours that Inawera produce. Part of that is testing them as standalones at different strengths and posting our thoughts on them, for them, but there is enough sent to tinker with, doing recipes afterwards.
The Sesame, Woodruff and the Summer Feelings were sent out in early November for testing and the other 2 earlier this summer. Sometimes there can be a V2 or V3 etc till it is right, based on the feedback
I do post my thoughts on the flavours here in the Inawera review thread some make it to market as above and some just never see the light of day after testing for whatever reason.
I have been doing it for nearly 3 years now, I believe other companies do this sort of thing as well.
@bluenose63
And your reviews are appreciated!
Quite fancy trying out the seasame and the woodruff, both sound good?
Now if only they would release a red currant concentrate!
Now that is one I would really welcome!
I agree with the redcurrant, as it works really well in the Pink Panther Concentrate. I have spoken to Marcin the main man at Inawera about it, but he isn't being very forthcoming about any plans for it in the future…

Woodruff wasn't for me as per Amy's description. But that is more a personal taste thing, than anything to do with the actual concentrate itself.
AWESOME!!! how cool is that, I am giddy as a school girl. That is just cool. I will have to go check that thread out. Inawera has a lot of good flavors, it must be exciting.
Sesame Sweets its definately interesting to me, sadly none of the others really are, will have to wait until its more widely available as nothing to purchase from Inawera to go direct
how is the vanilla cream ??? could you make a comparison or is it something that may stand out from other vanillas in some way
For me it is a custard, a pretty decent one as well. Slightly eggy and milky with a good hint of vanilla. I thought it was very similar to the egg custard you get in an Egg Custard tart you get here in the UK. Some of the other European reviewers likened it to a Vanilla Pudding, not really sure what one of those are, and may have been lost in translation to me? but I am sure an egg custard/vanilla pudding could well be similar just different branding in different countries?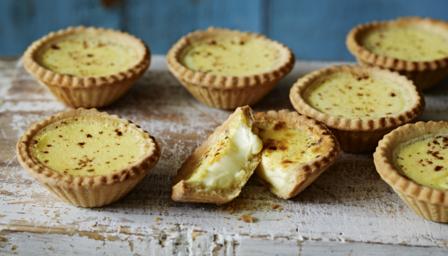 p.s. the pastry isn't part of the finished flavour just the custard…But this is a picture of what the finished flavour reminded me of.
thank you very much , i have so many vanilla products i will only but a new one if it stands out from any of the similar flaves
I am surprised they called it Vanilla Cream tbh, but it definitely is a worthwhile flavour, if you like your vanilla custards? as with all creams/custards a decent steep helps the finished flavour I find.
I think Inawera are good value overall when bought direct from Poland works out around £2 for 10ml delivered and usually only require between 2-5% so tend to last a long time, due to the strength of the finished flavours, though I personally find they can be a little difficult to mix with and require a bit more effort than some other brands to achieve a finished blend/mix.
That is just sesame, not the sesame sweets
You're right. I assumed Inawera only did the sesame sweets, as that is all that is listed on there own website.
But they have done just sesame in the past but it seems to be discontinued, but a few vendors are still selling old stock? Apologies for any confusion.
Has anyone ever bought direct from inawera?? I had no problem setting up my account and everything worked fine picking out my shipping options or anything else but when I went to pay for some reason my pay pal didn't work when I was trying to pay. The only reason I could think of is that when using my credit card as my payment option for some reason maybe and I am not sure but maybe my card couldn't convert euros to dollars even thow it converts it on the site. I really want to be able to buy my inawera favorites in _100ml bottles for $25 and under because I am loving so many of there flavors exspecially waffle, lemon cake, shisha strawberry, shisha raspberry, shisha Vannilla, biscuit are all go to inawera flavors. Anyway I am wondering if I use my bank account if it will work I haven't tried that payment option with pay pal yet but wasn't sure if it will work thanks.