Hi everyone, let me introduce myself.
My wife and I stopped smoking 1 month ago and have been vaping since. It's superb! She is into higher nicotine 6-12mg)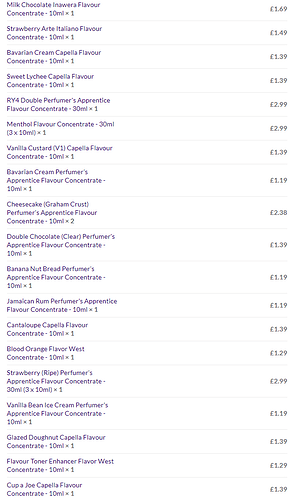 and menthol flavour whereas I'm enjoying several flavours such as nasty juice bronze (sweet tobacco), mothers milk, cake/pudding/custard flavours. 3mg nic with 0.2 or 0.4ohm coils.
currently using a single battery smok al85 with baby beast and big baby beast tanks although I have a Geekvape Nova 200W with an Augvape intake RTA arriving any day now.
I feel fortunate to have found this site and have enjoyed reading several info packed threads such as 'things I wish I new as a newb'. The recipe sharing is amazing and can't wait to get cracking on with it.
please see my concentrates I've ordered and if any great recipes stick out to you please feel free to share

Lastly, is there such an app or place where you can enter your flavours and it will offer recipes?
Thanks for reading, off to bed now will check in tomorrow