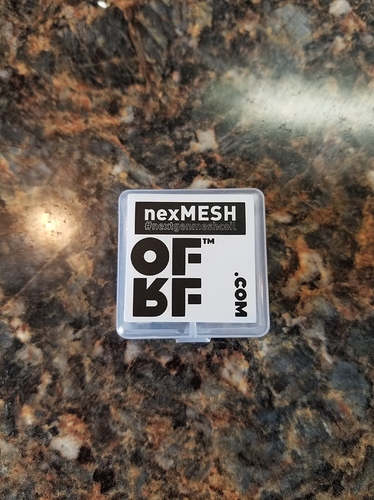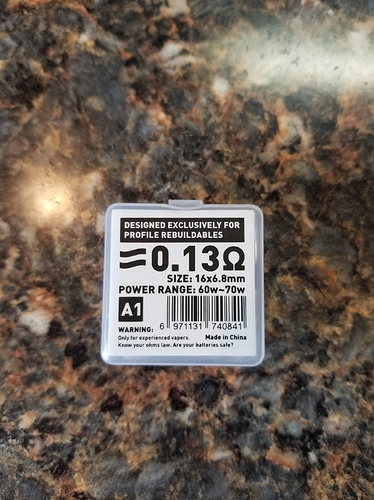 OFRF NexMesh:
            The OFRF NexMesh is now on the chopping block for review.  This was sent to me for the purpose of this review, by @HealthCabin.  This will not skew my views and will review this product with in-depth analysis. This to me is the hardest thing to do.  When you get a product you are looking forward to and well, I will let the review speak for itself.

            The mesh comes in at .13 OHM resistance. It comes in these tiny precut fashioned strips.  Nice, I thought to myself.  They were a breeze to install with the WOTOFO tools included in mesh devices. Yes, installation was a breeze and that is the great part of these mesh strips. This is about the only thing I enjoyed about the mesh.

Here is what I do not like about the OFRF mesh. I wish it came in different types, like N80, N90, SS just to name a few. It is Kanthal and is what it is. The honeycomb holes on the OFRF brand mesh are very large. There is not enough surface area for vapor production, which limits the amount of flavor produced in my opinion. To me this mutes all flavors in the device and it cannot reach the devices full potential in vapor and flavor production. If you do not wick this properly, the sides of the mesh will burn the cotton/rayon and give you one hell of a dry hit. The cost effectiveness on these meshes is in my opinion very high. Very high for a meh mesh vape.
I will provide a picture down below of a comparison to OFRF and Vandy Vape Mesh. You can clearly see the holes are way too big and your surface area is limited. You will not get any flavor off the mesh; it is just not going to happen in my opinion. Your vapor production is there, but not to the full vapor production, it could be in mesh devices. Also look at the sides of the OFRF mesh. You will see that there are thicker lines on the side of the mesh that can cause a very uneven ramp up of the "mesh" material.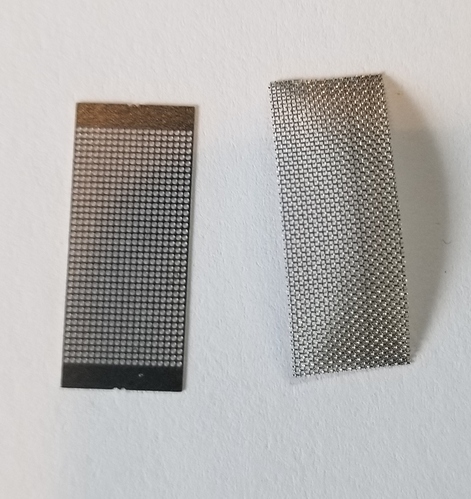 Another thing that struck me as odd, this is not mesh at all. There are no fibers woven together to combine into one sheet. This is just a strip of metal (Kanthal) with holes poked into it. So why is OFRF calling this mesh when it is not even close to mesh. What in the actual Fudge OFRF! This just adds another of many cons to the list. No wonder there are issues with this!
Here are my pro's and many con's:
Pro's:
1.) Easy to build with.
2.) The mesh installation was a breeze.
Con's:
1.) Flavors are heavily muted with this mesh.
2.) Honeycomb holes are too big for vapor and flavor production.
3.) Can only find in Kanthal versions.
4.) The OFRF and the WOTOFO mesh is just meh in my opinion and way overhyped.
5.) There are better meshes out there.
6.) Too expensive for what you get.
7.) This is not a true mesh in the sense of things. There are no strands woven together to make it a true mesh.
Would I recommend this to anyone? No, there are better meshes out there that make mesh devices work that much better. In addition, the cost of this in my opinion is excessively high for what you get. You are getting muted flavors and a meh mesh in my opinion. OFRF needs to go back to the drawing board on this one. There needs to be more surface area and less air gaps. This is sad because I had heard the hype on this mesh and just found it underwhelming. The only good thing about it is I have measuring strips for the Vandy Vape mesh (Which is far superior in my book!).
IT IS NOT EVEN MESH FOR CRYING OUT LOUD!
This is my review of the OFRF Mesh and can be found at health cabin, with the link provided below:
https://www.healthcabin.net/ofrf-nexmesh-coil-p/20168.html ($12.99)
Remember when in the US look for it in the local warehouses for better shipping costs. There is one in NJ (EASTERN) and one in CA (WESTERN) really cuts down on shipping times and cost!
Remember to keep your wicks wet and your clouds thick!
Yours Truly,
Skully