OUTSTANDING @SmilingOgre. I actually picked one up, with the rebuildable and haven't even had time to look at it. NOW, I feel like I already have. Love your honest review style. The specs and end roll with the drone footage, perfect.
#OgreVision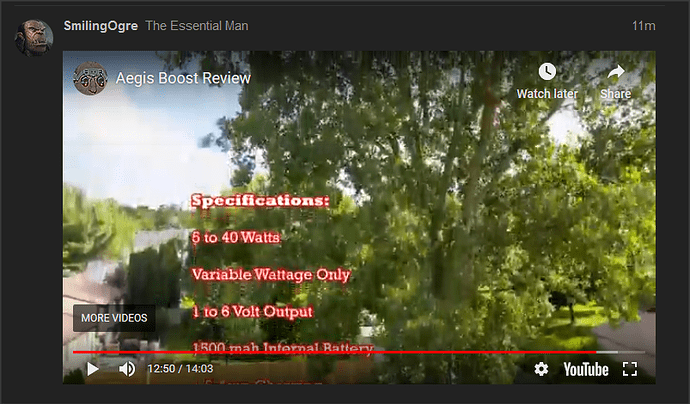 Well thank you brother. It's all about making the video for me. Really had fun filming and editing. Even snuck in a little drone footage. Doesn't really fit, but oh well… OooPs, responded too soon. Glad you like the ending. Wanted to figure out how to do a roll in Premiere Pro. Pretty easy.
I agree the drone footage was epic. My nephew says epic all the time so ya, totally epic dude. There, I put some of my teen talk in there. I remember when I was a teen, one of the words we used was SWEET! LOL.
It's good to see a review of yours when you like the product. I have passed on this particular device several times now. Maybe I'll give it some thought.
Thank you my friend. It was really nice to find a product I really like. I know you "get" how much fun it is to make a video as well.
Great review

yeah I had passed on that one too, may have to rethink that!
And gotta agree, that end roll was Lit

Thank you good sir!!! It will serve a purpose for me. I always worry about smashing an atty glass when I'm out working. Major PITA getting another glass. If I smash a pod I can replace it for less than five bucks. Ok on the end roll. A keeper it is.
Thank you for the review. I rather enjoyed the music at the start. There's nothing better than hi-gain Marshall to play some crunchy guitar riffs through.
I was surprised at the anemic clouds the Boost was putting out but I'm glad you're liking it. Not my cuppa tho.
Great drone footage there! (And keepin' it under 400 ft) What drone do you fly?
Was it drone footage? Or was The Ogre merely standing up to have a look around??
Great review as always.
Lol, Ya it won't fog a whole room. I'm flying a Mavic Air 2. My first drone. Still learning and trying to get used to the controls.
Lol, Peek a boo… I see you!
Nice! If you haven't already, make sure you get cozy with the FAA rules. They have hefty fines.
I dove into that and think if I stay interested I'll go for a remote pilot license. I'll see how it goes.
I want one also. They're a bit pricey for me but the Automatic Obstacle Avoidance makes it worth it.
I'm having a ball with the thing. The Mavic pro 2 is tits with 360 sensing and that sweet little Hasleblad on there. Maybe someday. Gotta master this one first. Got a long way to go, lol. Keep yawning left when I want to yaw right and so on. Want to visit some parks and see what I can see.
I can totally relate man. It's more fun than we deserve! I'm still flying the Parrot Bebop 2. I like it, but pretty sure I'd like the Mavic way more!