One device, one ogre, two times watching it !!!
You are a glutton for punishment, lol. Thanks!!
Nice review. Also, I've been meaning to say that I love the 4 strings stage left.
Thank you and thank you!!! It is what I call my Doghouse. Doubles between a vape cave and a mixing studio. I've named her Yashkoo. Shes Czech. She has an amazing voice all her own. Just before I noticed your post I was mixing her into a version of Moon Dance we do. She's a sweetheart.
Enjoyed your review. (I watched this one!) I won the Vapefly Core in a contest held by @Heaven_Gifts a few months ago. I was supposed to do a review but procrastinated and dropped the ball on that.
Anyway, I really REALLY like this RTA! It WAS getting used almost daily. Unfortunately I've had some issues with the clamps on the deck. I can't figure out what happened but for some reason the screws became separated from the clamp threads. Normally the clamp would rise up as the screw is loosened, allowing for the coils to be inserted. No brainer, right? But now as soon as I start backing off the screw the clamp piece falls out. Already lost two.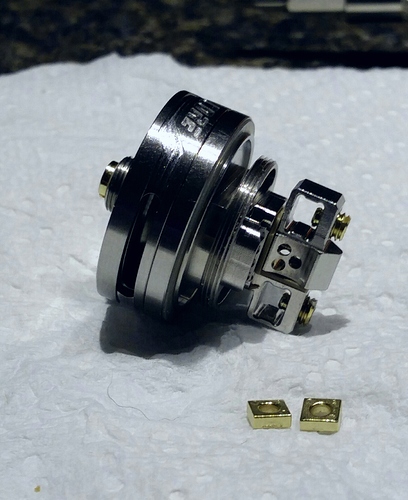 And let me just say those little bastards are a bitch to get back in and aligned! I'm sure there's some method to it but after dicking around with them for over an hour one night, I just said screw it. (no pun intended) It's a shame cuz I really liked this atty but my frustration level had reached uncharted heights.
I had same problem w/ one of the clamps on the Vapefly Wormhole. It kinda gets past the first thread by snapping into place but have the feeling once it comes off once that that first thread that keeps her on is wasted. They really outta include new "nuts".
Glad you posted this one! This is the kind of thing you can't know with just a couple of weeks with a device. When I saw the spares in the bag I kinda wondered. With my fat fingers I can't imagine trying to fix that. That is a serious bummer. Makes the thing useless for sure. Beyond that it sure performs well. That's messed up.
Double yikes! Always something…
was always curious if the production ones are better tho since i got a "Sample" w/ missing parts. Thankfully they are sending a replacement rda after requests since July
Good grief, that's just too long.
Like to make it clear that it wasnt a fault of Vapefly but the vendors and actually heard Vapefly was happy to send out missing parts found in the samples.
Thank you! I was hoping. Outside of this nut thing Vapefly seems to make some real decent products especially for the little bit of time they have been on the market.
If she sounds as good as she looks it must be beautiful.
Unfortunately, being left handed, I never got to play upright.
I'm envious.
Ah to be young again. If I was ten years younger, I'd do it in a
heartbeat. At 62 with stage 3 arthritis in both hands I'm
starting to wind down my playing. But I do have a couple of
students who will love this info and I'll pass it on to the next
gen. Much appreciated.
I get that for sure. Just turned 65 and things are slowing down, lol. I fell into a real good group about five years ago and I am going to stay with it as long as I can.
I got asked a couple of weeks ago by some of the guy's I play
with regularly if I was done or would still be interested in
playing. I told them I was to stupid to say no when the phone
rings. Us old soldiers gotta keep the young punks in line ya
know. Stanley is off my table, but Geddy is still doable

(for
a little while any way)
It may be late, but it's never TOO late to say …