Let me know what you think of it please. Its my 1st. I love it!

@Jazzy_girl
As long as you love it, it doesn't matter what anyone else thinks about it.
It's your first recipe, if YOU think it's great, then it's the best recipe in the world.
Congratulations on your first recipe. It looks very tasty

Thanks

its actually really awesome! It has a fluffy cake feel to it with a smooth hint of pineapple. I actually bought a vendor pineapple flavor, in the past and, it was way too strong and sweet. This one is just right! Thats what I love about mixing! I can make it just the way "I" like it. And hopefully others could enjoy it too.
I'm working on a pineapple malt now too. I'm just about done. It took me awhile but, all of a sudden. Everything "clicked" and all these recipes are coming to me.
That's awesome! Good for You @Jazzy_girl!
Welcome to the addiction

Congrats on your first finished recipe! I am just at the stage where I have started coming up with ideas, and started to work out what ingredients and % they should be. But I haven't mixed one yet. So you are doing better than I am!! I am really happy you love it!
I think its a process. Its taken me about six months full time to get to this point. You'll get there :). It just takes time, and you may mix faster than me. I think everyones different. Thats what makes this site so awesome!!! The more experienced mixers can help us and possibly vise versa. We may have fresh eyes for it. Do get frustrated tho because all of a sudden it will all "click"
What kind of profiles do u like?
This site is amazing, I would be lost without it! It just very recently hit me that I know how to bake all kinds of things, and make Lots of drinks, why am I not using those for inspiration? This was a few weeks ago. I started mixing in April, made a few attempts at one flavor I was trying to clone, then decided to learn more about flavors, combinations that work, etc…So I have been mixing anything and everything that I can that I may enjoy. Trying all kinds of profiles. I love tropical fruit blends, the one I was trying to clone was coconut, pineapple, strawberry, banana and now I have some ideas of what else could be in it like sweet Guava and dragon fruit. However, I just discovered Purilum's tropical Blend and it tastes so good all on it's own, I am happy with that. It actually tastes close enough for me to the juice I wanted to clone! I also still like a mild menthol tobacco mixed with a bit of sweet fruit, RY4 is the main ingredient in my favorite ADV recipe, I like some bakery, some cereals, certain fruity candy. Cake batter, in the right brand, is so good, ice creams, cheesecakes, sugar cookie blends. I am trying to see how chocolate gooes with RF Brownie, I am working on PB brownie and Cream cheese brownie, and maybe one with all 3. And, I am working on a pumpkin cookie with cream cheese icing, cinnamon pull apart bread (we call it bubble bread, some call it monkey bread). And there are still a lot more fruit blends I would like to try! So, I am just discovering my tastes are all over the place! I would have never found that out if I hadn't started mixing. Your recipe sounds really good, I love pineapple, and that yellow cakey-ness. I am definitely going to try it!
Thats awesome! It sounds like you have alot going on over there. I do the same thing lol…just when I have one recipe I see another and another and I love mixing so much! The chocolate sounds great! Let me know how that turns out. I haven't tried that as of yet.
I love it so much too! Even if my own recipes don't turn out great, there are a ton of them that other people created! I tried the PB brownie in my tank with my little bottles of test flavors I make, and it tasted good!! I hope my recipe turns out as well!!
Like @Saxonn said, screw the world !!! Kidding, but true, if you love it, all that matters. Your recipe looks very good, and may have to try it. What are your thoughts on the FLV Frosting ?
I love the line of thinking here! Thanks

The frosting is so delicious! Tastes rich and creamy at 3%. It adds the extra little kick to the recipe. Just like frosting on the cake

I have only had it in a few recipes now but I'm really liking it ALOT! It seems to blend really well and still hold it own flavor in the juice. Its definitely worth having!
when ever I found a recipe that I really like and I want to enter it to my rotation I make a 60 ml flavor stone it's so much easier your recipe looks good.i personally have 8 stone's for rotation good job jazzy-
How do I go about making a flavor stone?
Hey Jazzy, so to answer your question here is how you do it on the ELR site. If you go into your recipe and click the wrench it looks like this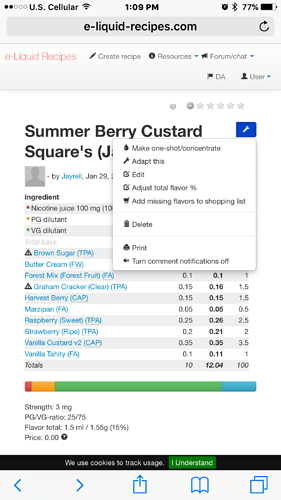 Click the one shot concentrate and you get this screen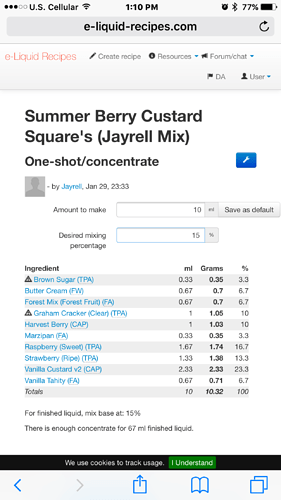 Enter in how much of the "stone" you want to mix and at the bottom it will tell you how much finished liquid it will make and at what percent to mix it at

hope this helps!!! BTW my next flavor order I will be getting some of the missing ingrediants to try out your recipe. My wife loves pineapple vapes
I think this gentleman answered it for me.its very simple and saves a lot of time.I use 60ml and it gives you the % use then go to recipe at the bottom left of the recipe will tell you the gram weight (that's what I use)also tells the MLs if you use a blunt needle.if you need help these guys are great on. ELR. Good luck jazzy_girl. Sniper
Thank you and this helps alot!! Oh thats awesome!!! You just made my day

I hope she really enjoys it!!! Let me know how she likes it.
What's the steep time on your recipe? My wife and I are not the most patient lol
I started vaping it right away and it was pretty smooth. I'm sure with a steep it will only shine even more tho
Thanks Jazzy! I have a blueberry glazed donut iv been working on I need to go ahead and post it lol I use software on my computer for my mixing so most of my recipes are hidden from here but I need to get better about posting my successes