Thank you for your response. Here is my coil position, its 4.5 mm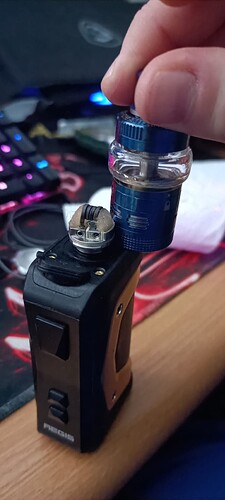 is that too high?
Is dual coil juice consumption high?
Welcome and glad you joined.
Coil at 4 wraps seems too big, should i maybe make it 4 or 4 mm id, then reduce wraps to 3?
Also i use muji pads with Scottish roll… is that bad?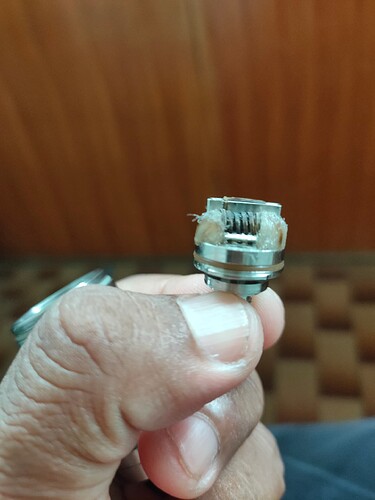 Fused clapton, 3mm diameter, ni80 28x2/40 6 wraps, clocked at 0.51 ohm, using 27-30 watts depends how warm I want it
I put it just covering the side airflow, making sure it's as low as possible, in line with the top most holes, also making sure the cotton doesn't cover any part of the bottom airflow.
From what I can see in your pics @d00mhammers, looks good. I can't be sure, but when you used the postless, did you only use a single coil ? Have you tried dual coiling ? When I switched from the single coil deck, to the postless with dual coils, I had a dramatic increase in flavor.
You had mentioned possibly moving DOWN in size, with the SINGLE coil, which I'm curious to hear how that worked out.
I'd go dual with the postless. You'll be able to fit dual 3mm but I' It'll be restricted more. I find the 2.5mm dual works best. Good luck!
I will try it, what wattage do you run your build at?
I'm trying this right now, i'll let you know
Well, if you postless deck'd it, and dual coiled it, and you're STILL not get the flavor, then it's possible the v.3 isn't for you. Your coils look good, height good, and cotton/wicking look good. When I set mine up for the review, I got "fair" flavor from the single, and when I switched to the velocity, it was markedly improved.
What are you getting, muted flavors ??
My dual coil build cane to 0.19 ohm. I'm running at 80 wats, half honey comb airflow. I did try all others. The flavor seems cottony and muted in a way not poping, like in my claymore
I wish I had a claymore to compare it with, but I don't. It's great you at least spent the time and effort to try and narrow it down @d00mhammers. Do you have any versions of the Plus ?
Well I do have the Ragnar which is currently too big for any of my mods. I have ordered the hadron plus with the aromamizer plus v2 but they haven't arrived yet
80 watts at 0.19? WOW you like a hot hot vape. I start a at 30/35 watts on a neighborhood of 0.22 to 0.17 ohms and end up about 50/55 watts max before the gunk gets burnt off and a cotton change.
It's not hot, I want it hot. The V3 is quite airy. At such low wattage as you suggest, there is literally no flavor or vapor, it bare gives vapor around 50 wats
I'd be interested to hear how the Plus works for you.
Honestly the v3 made me worried about that… I even ordered the single coil deck for the plus, but now i feel i will regret it…Also package from fasttech said airplane landed 3 weeks ago and no updates. I wonder if it is lost…