Hi All,
I've just started making my own e-liquids and I'm happy with the recipe and notice that premix bases are cheaper than buying the PG/VG bases separately.
Does anyone know of a calculator that accounts for premix or of very simple formula to ensure accurate measurements?
The below recipe is for a 50ml Bottle, 70/30 PG/VG split with 5%Nic (18mg Nic Shot) and 20% Flavour.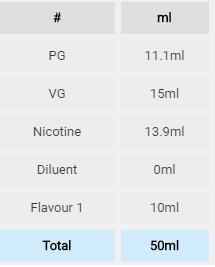 Any assistance would be greatly appreciated!
Thanks,
Cal.