Is Pez a candy. I'm not sure what profile you're shooting for. It seems kinda busy.
My wife was wanting a more refreshing vape, so I started playing with a take-off of Cuttwood's Mega Melons. I wasn't really happy with the clone recipes out there and started to switch the flavors to some better ones. Added a little INW Cactus and a minute amount of Pyure.
Mixed up a 30ml bottle, gave it a little stir with my frother and tested it on the Tsunami RDA. Holy cow is this good! No steeping needed with this even though I bet it will be better in a couple of days.
If anyone feels like trying this one out, let me know what you think.
| Ingredient | % |
| --- | --- |
| Cactus (INAWERA) | 0.5 |
| Cantaloupe (Flavorah) | 1.8 |
| Mango (TPA) | 4.5 |
| Papaya (FA) | 2.3 |
| Pyure | 0.25 |
| Wild Melon (Flavorah) | 2.15 |
Flavor total: 11.5%
Remember to rate it at
e-liquid-recipes.com!
You know what Pez are… its the little candies that go in the characters and they dispense out their mouth theyre popular collectable plastic candy toys
I've seen them, but I've never had them. Maybe some type of sweetener like Pyure will round out whatever is off with it and give it a candy feel.
I've been using Pyure and Sour Wizard FA with my fruits and I'm having very good results.
Thanks buddy I kept seeing pyure in your recipes and didnt know what that was. Is it a coil clogger like some of the other sweetners? does it tone down or just round off? I keep having them tone down with EM instead of just sweeten. I do need a good sour as tpa's didnt show useful for me like I wanted it. Bitter wizard is the same thing right? had that on my list I think they were out…
Pyure is not a coil bunker…
Organic Liquid Stevia

Sour Wizard Review
Truly pops the flavor on not only FA fruits but all others as well. A true sour unlike anything I've seen in 6 years. Seems stronger and more distinct than other sour flavorings I've used. Should be easily blended as an enhancer at low-to-moderate percentages.
How is the dark chocolate MF?
The best I've tasted. Slightly sweet, no bitters. Reminds me of the chocolate on a Mounds Bar. It even show up at .3% in a mix.
Nice, ill grab it. might work well with the Light Chocolate.
Alright, so here is one that is incomplete as i am waiting for the dumb ass to remember to order Brown Sugar (TFA) or extra. It will replace the Maple (Pancake Syrup)(CAP) and CDS, maybe that it.
As some of us recently received some Amoretti it was only a matter of time, right?
Sweet Potato Custard
| Ingredient | % |
| --- | --- |
| Cheesecake (LA) | 2 |
| Cinnamon Danish Swirl (CAP) | 1 |
| Egg Nog (CAP) | 1.25 |
| Maple (Pancake Syrup) (CAP) | 1.5 |
| Sweet Potato (Amoretti) | 6 |
| Vanilla Custard v1 (CAP) | 5 |
Flavor total: 16.75%
I have used TPA Vanilla Swirl with Watermelon and they go well together also Inawera Cactus really sweetens and livens up Watermelon if you wanted to try something different to cream.
I thought about cactus, but I'm a little leary because this mix is already rindy and I think it may get too earthy. I also thought about cream, but it may add a milky note and washout the watermelon.
The flavor is very similar to a watermelon candy. It's right where I want it. The taste just doesn't linger and it's missing mouth feel.
Vanilla Custard Cap doesn't really add much flavor and I could get mouthfeel from it. I just need it to hold the flavor for the exhale.
Let me know how that Yo' Bronuts works out I'm replacing yellow cake with Nonna's and dropping the Joy in my version LOL
TOC'S Nonna's Doughnut
1.25% Biscuit (INAWERA)
6% Chocolate Glazed Doughnut (CAP)
3% Nonna's Cake (FA)
1.5% Sucralose
2% Vienna Cream (FA)
Flavor total: 13.75%
I think Joy ruined the original bronuts for me. I got this donut combo from that Deputy recipe that @daath posted. I tweaked it a little from the original.
Joy likes to ruin things LOL I agree!!! did ya see my note on the MF flowers and monk fruit? Not sure what to do with this stuff they sent
No. I missed it. Can you link it?
Here's my new WIP. So far it is good. Well see how it goes over the next couple weeks, but as S&V its delicious. I keep smelling the bottle lol reminds me of going to Cinnabon and getting them gigantic glazed cinnamon rolls.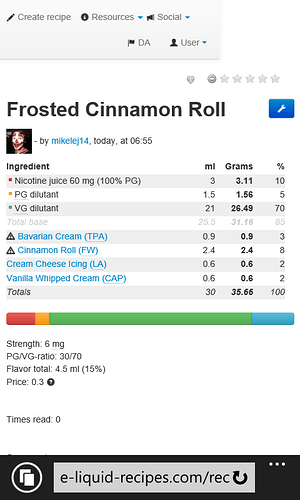 How is that RF Cream Cheese? I've been tempted to try it. So far I have only tried their bread pudding and pineapple upside down cake.
thats what i use. i just posted pix yesterday or the day before of my setup in the storage thread. works really well.