About $25 I believe, if you use my discount code at checkout on the link above

You're welcome

pre order at 3fvape for 20 buck.
says $27 when I looked?..do you need to log in or something?
You've almost convinced me to get one even though I have no vape budget left until October and I'm most definitely a tank girl.
Not that one.

Love your reviews. Always make me laugh, but I can't see myself getting this one.
Thanks man

It automatically deducted it for me.
And that's with me logged in so really don't know what's goin on there man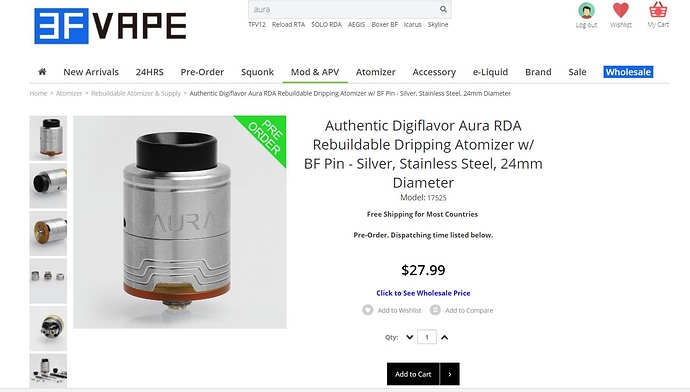 unless it's because I'm in the UK or something…can't think of any other reason…
this is what it gave me; MAP 17526 / 17527 - 27.6% off for Digiflavor Aura RDA Gold / Black Voucher MAP 17526 / 17527 - 27.6% off for Digiflavor Aura RDA Gold / Black 1 -$8.00
Authentic Digiflavor Aura RDA Rebuildable Dripping Atomizer w/ BF Pin - Black, Stainless Steel, 24mm Diameter
1
$28.99
$28.99
ahh does it deduct when you go to checkout maybe…
It's a good deal man