I was sent this thing by @AtouchMall and you can see it here: https://atouchmall.com/justfog-p16a-starter-kit_p0302.html
Specs
1.9 ml Capacity Clearomizer
1.6 ohm OCC Bottom coil
16 mm diameter x 54 mm high clearomizer dimensions
900 mah 510 internal battery
3.4-4.2 volt variable
18 mm x 24 mm x 71 mm batt dimension
Summary
This lil guy takes me back to the days of using an eGo spinner battery and a little EVOD style clearomizer. It's very nostalgic. Might be a nice, cheap option for someone just starting out and/or who needs/wants something very simple. Works well for what it is, but nowhere near satisfying for anyone who is used to anything more powerful
Usage
Without a clearomizer attached it blinks three times. Four clicks turns it on/off. The clearo is childproof and <2ml so it's TPD compliant, I assume. Push down and turn to remove the base and install the coil. Turn the top of the clearo when it's on the mod to open/close airflow. The tip has an anti-spitback metal piece in it and is not meant to be replaced.
I don't think I was supposed to take the drip tip off, but it went back on without a problem. It's just a little piece of plastic that fits over the top.
Once you've got the clearo on, push the big button to fire. Push the smaller button at the bottom to change the voltage. One bar is 3.4v, two bars is 3.8v, and three bars is 4.2v.
The circle LED changes colors to indicate battery remaining. White is 60-100%, blue is 20-60%, and red means <20%. The LED blinks 4 times when the battery is dead and needs to be charged. It has all the basic protections: short circuit (won't power), overheating (10 sec cutoff), overdischarge (blinky light and power cutoff), overcharge (power cutoff when fully charged), and overvoltage charge protections (circuit blocks current). Mini USB port at the bottom to charge it.
Thoughts
I've taken this thing to school a couple of times for a stealth vape in the bathroom. I have four classes from 9:30 am to 4pm with only 20 min breaks in between this semester. Going down two flights of stairs to vape in my car (not supposed to vape on campus) and then getting back upstairs to my next class isn't exactly feasible. For that purpose, it works pretty well. When I first got it and tried it out it I found myself puffing on it just for nostalgia's sake. The battery is tiny—about the size of a pack of gum.
Next to a little 5ml bottle of juice
It has a nice matte finish so it feels nice in the hand. It's much smaller and lighter than anything I've used in the past. The tank is glass, the metal feels a little cheap, the drip tip isn't bad.
The coil appears pretty well built, but definitely not something I'd want to take apart and try to rebuild…it's itty bitty.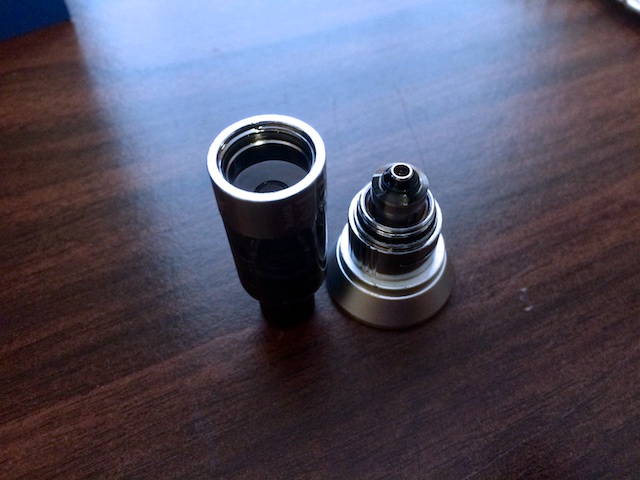 The flavor and vapor are just meh. About like I remember from the ego/evod days. I'll hang on to it for school. I gave my eGo AIO away that I was using and this is a fair replacement. Actually feels a little bit higher quality and better built than the AIO.