Rabies the Rabid Sibling of Mad Dog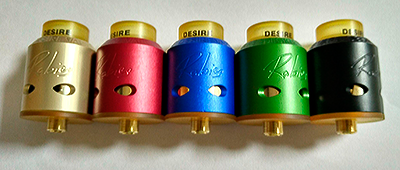 So I won this RDA in a Heaven Gifts giveaway here on ELR and despite that it won't color my opinions in any way or form.
Rabies… It kinda sound a bit silly to me, but hey whatever works for the name giving people at Desire.
It is a 24mm RDA and it is supposed to be a development of the Mad Dog but I'm not entirely sure about that myself.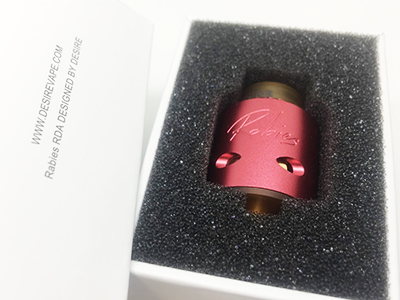 It comes in a box with the RDA laying on top and underneath that a bag of spares such as o-rings and a bunch of extra post screws, 8 of them and in total this RDA comes with a total of 12 post screws.
The first visual check on the RDA isn't bad at all (got a red one) and it does look good but at the same time kinda weird with the airflow holes it has. The build quality is what was expected so not much to say about that.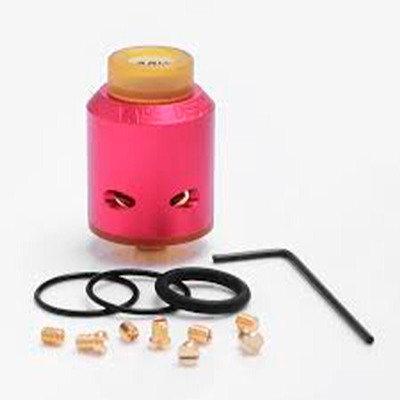 The build deck is different when compared to the Mad Dog with the elevated outer posts that remind me a little of the Recoil in style. This style of the post make it really easy to build on, it also makes it simple to wick.
The size of the build deck is a good one and you have enough room to put some big ass coils in it if that is your thing. It also has a big juice well that is around 7mm deep allowing it to hold a ton of juice along with a lot of wick.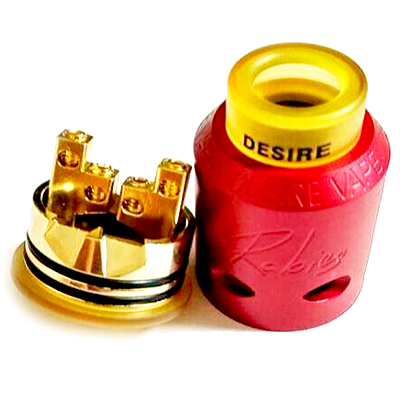 One thing that irritates me with this RDA is the fact that the air holes in the top cap don't really align properly with the slots in the build deck which restricts the airflow more than it really should. In my mind that is a total design error and even though it has a decent airflow it is kinda meaningless to try and change it from fully open into something else. Would have been much better to stick with the kind of airflow that the Mad Dog has or done something else all together.
On my example the o-rings aren't the best I have seen and as a result the top cap is really on the lose side, I would have preferred a somewhat tighter fit. Another thing that bugs me is that the 510 pin isn't adjustable and that is a shame since on the example I got the 510 pin doesn't protrude enough to be used on any of my hybrid mechanical mods. I would say the Rabies would only be safe on a 510 connection on a mechanical mod or regulated device.
The Ultem disk that it has at the bottom can help with heat dissipation and prevent the mod from getting to hot so that is a bonus.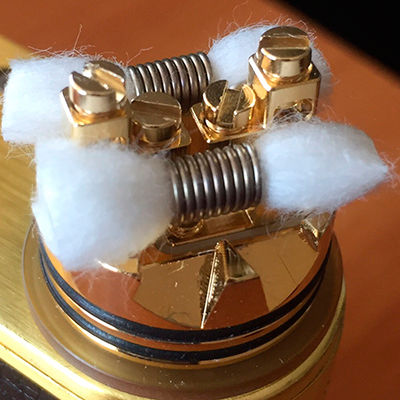 When I used it it did get really hot and the supplied Ultem drip tip is a bit to short and if your lips come in contact with that really hot alloy it could burn you if you are unlucky. I used another drip tip that is a bit longer to prevent my lips from contacting the top cap.
So what is my conclusion on the Rabies…
Well for an RDA in this price range you get what you pay for. It isn't astonishing but at the same time it isn't really bad either. It has its quirks and it has its flaws and all in all the flavor from it isn't bad at all. I can't compare it to the Mad Dog since I don't own it so I can only compare it to what do have and use regularly and against those RDA's it doesn't stand a chance.
But as unfair as that might be I try to have an open mind and say vapor production is really good at the expense of flavor and I haven't been able to set the airflow in any position where the flavor manages to get any better. Please understand me correctly, it has got flavor, oh yes it does, but not as intense as I am used to when using my other RDA's.
Is this something I can recommend to others? Sure I can, if you are a beginner and just want to try an RDA to vape on - it does what it is intended to do and at the price point it is worth it.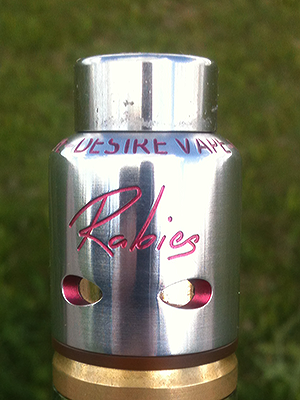 As a side note I never liked the red so I decided to make this one a bit unique and in the end I think it looks better now than it did when I got it.
Vape on and DIY
You can get it here https://www.heavengifts.com/product/Desire-Rabies-RDA.html