http://tjek.nu/r/eWc2 have a look guys and let me know what you think

The flavors you selected do not show which concentrates that you are using. Also, thats a lot of flavoring at 27% total of just 2 flavors especially and I'd give suggestions if I knew what brands you are using.
Do yourself a favor please, and input your flavors properly they should have the manufacturer name with the flavor name, IE they should look like this.
Juicy peach (cap) that way you can get notes in them and recommend percentages, yours look way high but I couldn't begin to help because I don't know who made the flavors.
tfa/tpa mango and peach im new 2 all this so any pointers will all help
Honestly it looks like my first recipe, it was horrible but I thought it was amazing! That being said your first priority should be inputting your flavors correctly.
This should help.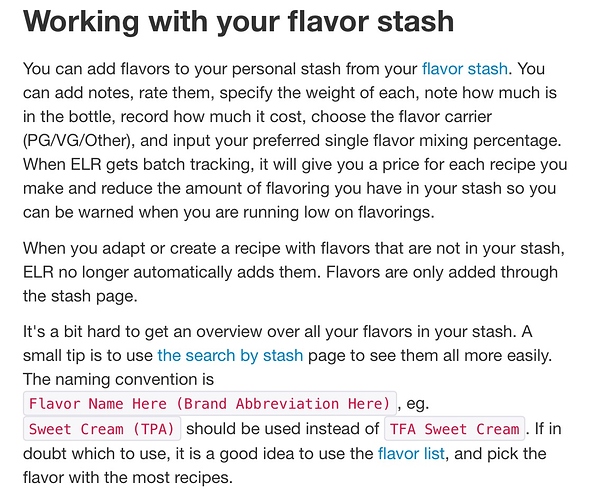 think iv edited it right lol
You will need to edit your recipe to reflect the changes you made to your flavor stash, those percentages are very high for tpa/tfa. Click on the flavor in your stash and look at the recommended percentages. And read the notes!
av a look now and see if its looking better im trying get the hang off this :)

Looks better, now the last step is to mix it and see if you like it! I would start with small amounts, my testers are 15mil
thank you for your input i will be on the mix tomorrow as waiting on 1 more item wish me luck lol
thanks what are flavours for less like ? any 1 know
cheers im uk based myself
I figured that out from your nic strength, I'm across the pond. But I tagged a few U.K. Mixers so they could help you out.
Gotta be honest ive never actually heard of em?..this is a supplier i presume?.. I tend to stick with Chefs Flavour or Rainbowvapes 🖒
You get cheaper flavors at chefs, don't let the name "flavours for less" fool you

They're more common on this site and will make it easier for you to (re)create existing recipes on ELR.
Also, when you're new to mixing, I advise you to stick to well known and highly rated recipes to start off. Look at the flavor profiles and when you select a few, order the concentrates needed.
On the Resources link you'll find links to UK shops + discount codes. Also on Planet Of The Vapes you can find a lot of discount information and good deals.
Once you get the hang of mixing (which will be rather sooner than later), you're in a much better position to start experimenting with new flavors.
I'm not saying it's wrong to do that from the start, but you just might find it a bit harder to make recipes that you thoroughly enjoy from the get go.
There's a really good thread in the forums about which flavors will make you the best rated recipes if you quickly want to build up a varied stash without spending 100's of £s in 1 go

i wana jump in the deep end and make me own i know i probs shoudnt tho