Looking to clone riot squad raspberry grenade ejuice but can't find the recipe anywhere.
An exact clone is near impossible. You can get close tho. A description always helps because many have never tasted the juice. From the profile others will come along and make suggestions.
Raspberry Grenade shortfill e-liquid by Riot Squad Punx is a beverage blend which features citrus and berry fruit hints. A sharp, fizzy lemonade provides the base of the vape, complemented by the sweet, ripe flavour of raspberry throughout for a distinct taste.
sounds tasty

Welcome to the Forum @Tonytones
What flavors do you have to work with?
I'd start with a Lemonade

Punch "Lemonade" in the search box for the main Flavors list… Oh, uh🤯. It show 1028 different flavors with the word Lemonade in the description.
Lol, I'm sure that's why you ask if anybody knows. Can't hurt to ask, someone here may know. But I'm glad you asked because I really like the thought of those flavors together. I bet I can make hundreds of vapes I like from just grabbing flavors that seem to fit the description and a box of bottles.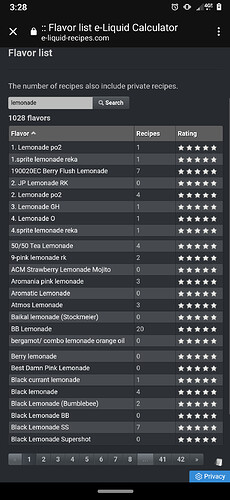 ahhh, a descriptive word that can't be replicated via vape technology lol
Ha! They have come close.@SessionDrummer reviewed a flavor(don't remember the exact flavor) that gave a good tingle through out a 30 ml with his recipe. He might drop in to define better than I ever could

.
First off Welcome to the forum!
Cloning a commercial recipe is nearly impossible. Unless there's a leak someplace, your best bet is to write down what you taste, beginning to end and go from there. For instance- I'm just pulling this out of no place- is the fruit dark, bright, bold, sour, juicy? Is the cream a custard cream, a heavy eggy cream, a plain cream, and airy cream, does it have a dairy milk note, a vanilla note, vanilla pudding? Nuts, it it a buttery nut, a textured nut, candied nut? Then once you define all the notes of the liquid, you can begin to assemble the concentrates. I've never tried to clone because it's nearly not possible. Maybe if you knew the flavor houses they used to make their eliquid it might be a little easier… just my 2 cents.

Hey guys thanks for the replies, unfortunately i cant get ahold of the juice right now because of a flavour ban in my province. (What got me into diy) and its been awhile since ive had it so im really banking on someone who has it now and might be able to help me out. From what i remember it was raspberry, possibly lemonade? And a hint of menthol for the cooling effect. But its been awhile so i might be missing something.
Even if we cant find the riot squad version im more than happy to try some recipes you might have that are along the lines of a refreshing cool raapberry
Just read a review it's a pink lemonade if that helps
Just for fun. I was not trying to make a clone. I've never had the original.
Not bad off the shake.
| Ingredient | % |
| --- | --- |
| Fizz Pop (CAP) | 1.50 |
| Lemon Sweet Betsy (Flavormonks) | 1.00 |
| Lemonade (bickford) | 3.75 |
| Lemonade (SC) (WF) | 2.50 |
| Pink Raspberry (Molinberry) | 2.00 |
| Raspberry, Sweet (TPA) | 3.00 |
| SteviaClear Sweet Drops (NR) | 0.50 |
Flavor total: 14.25%
Remember to rate it at
e-liquid-recipes.com!
Welcome to the forum! And im sure you'll find it here!