Hi all looking to clone vampire kiss, strawberry, Raspberry, and ice, any one have recipe to teaste similar?
Sure I wasn't iven thinking that I can do 1to 1 but somthing close to that teaste,
If you have a link to the original eliquid… That would be helpful. =)
I upload picture off the bootle when get home, is teaste like raspberry, strawberry with a little cooler kida mentos, friend ask me to mix for him, as buying 10 ml In shop going to be to expensive, I never use this liquid beafore, I tray mix strawberry and raspberry, plus kolada, he said is same mentos effect but fruit teaste different
Well at least you have gotten the Koolada figured out! Unfortunately, there's a ton of options for both strawberry and raspberry. And to complicate things, there is quite a wide variance of taste profiles.
You could ask your friend to describe what he gets (tastes/smells) from the fruits?
Are they like candy? Are they fresh, or ripe, or slightly green (unripened or sour), or earthy, etc.
If you can get some descriptions about the tastes, then maybe some folks can help make suggestions.
It would also help to know where you are at in the world. To possibly narrow down what's available to the company that makes things. EU, etc.
Also, you are doing well in trying to speak another language, but, if you want to share what your native language is, we DO have a worldwide audience/membership! So someone may be able to speak with you in your native language (in private)! Of course, it would also be nice if you make progress with this attempt to clone… That you come back from PM and update the thread, as it will maybe help others!

Best of luck to you!
Thanks for reply , I'm live in Ireland, originally Polish, so my English is no good in spelling at all, never have chance learn english is school,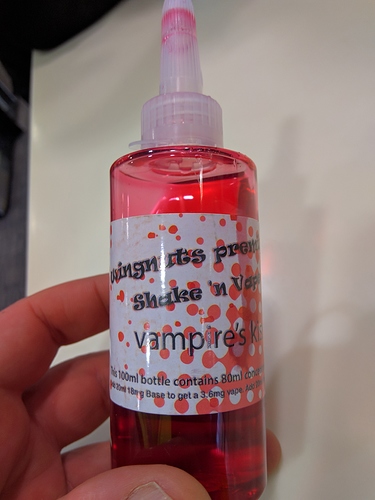 bootle look like on picture, on my intake rta, teaste like raspberry, strawberry and I can teaste some booble gum
Sweet raspberry TFA 3%
Strawberry ripe TFA 6 to 9%
Spearmint CAP 1.5%
Sweetener TFA starting at 1% and possibly boosting it up if needed.
Might be a decent starting point.
I Done as fresh made is bit close to original, also done 10 ml with inavera, strawberry 4%and raspberry 2%,0.5% kolada, come close is well but I give week and and check then will be checking for next month
After 24h teaste bit like vampire kiss more like red astare, or kind t Clara hard to describe but for me is good I give a week, and see changes
You had my curiosity but now you've got my attention. Sounds like Beetlejuice
After 48 hours teaste bit better I think little to sweet, if you gonna tray meake one please give your cons and pros, hard to describe teaste is little close to vampire kiss but not the same I think I missing in recipe a drop or to of katus from inavera
Might be a bit bias because…well.uh, never had vampires kiss before but as a general juice its whats in my tank right now. Passionfruit, I've rediscovered, is a harsh nemesis against its brethren juice. 2% of passionfruit and even at 22% profile, all I can taste is the passionfruit.
It's shocking up against 7% strawberry but …its not a bad juice, its really quite good, just…cant taste anything hahaha
When I mix frist I teaste frist pepper mint then passion fruit, to day after 36 hours more teaste come up, I think if I lower down passion fruit give more raspberry plus a just drop of kaktus that will change, vampire kiss is more strawberry then this but my friend liked is well but he vape Vkiss last two years and said is definitely not the same at all so I back to fun with it,
Not vampire kiss, but I tried different things to have a nice raspberry recipe and came up with this. It's good for my buds, maybe some ideas on it can help preparing an ice cream version

Thanks will do and compare, that raspberry is missing in my recipe, in smel and teaste, I was surprised to passion fruit and peper mint took over, I increased raspberry inavera to 2% but to early to say is help, I give a go your recipe tomorrow