This is a review of an RTA by a company called Hugsvape. Health Cabin sent me this RTA for purpose of this review. I have no contract nor affiliation with Health Cabin and was asked to select a product of my choice to review and post here.
I chose the Lotus RTA to review because of the raving and excitement that I heard from other vapors and reviewers. The one thing that caught my attention was the fact that everyone I spoke to that knew anything about the Lotus had one common denominator that raised my brows. That was the flavor delivery of this system and how the user loved the way it vapes. Now I have been caught up and burned with hype before and my question was, "Is this going to deliver or disappoint?" Read on to find out if you wish.
The Lotus RTA came in this box and is very nice and held the tank neatly with the bubble tank.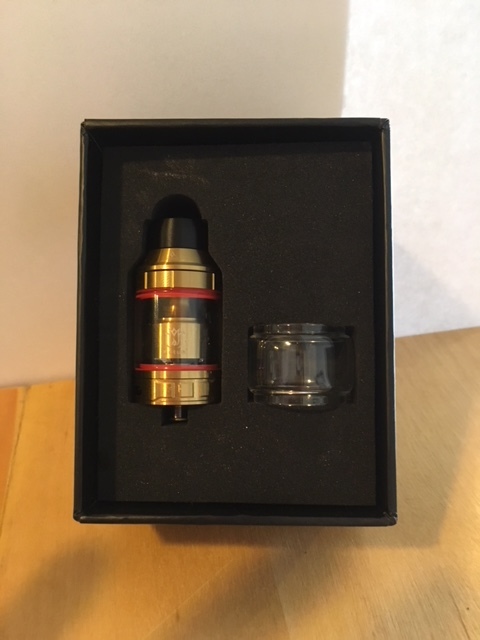 The deck reminded me of an upgraded GT deck or Genny type deck. Some might call this an RDTA but I've never argued that point. If it vapes great, I don't mind what you call it. Notice the cone shaped chimney? This is an important design here to point out.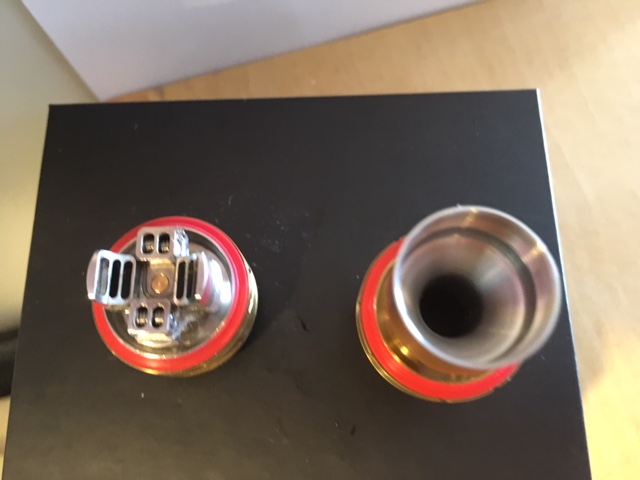 You can see here the short chambered chimney and how the taper is short and close to the drip tip. Another important design telling me before trying it that it looks very promising for a flavor chaser like myself.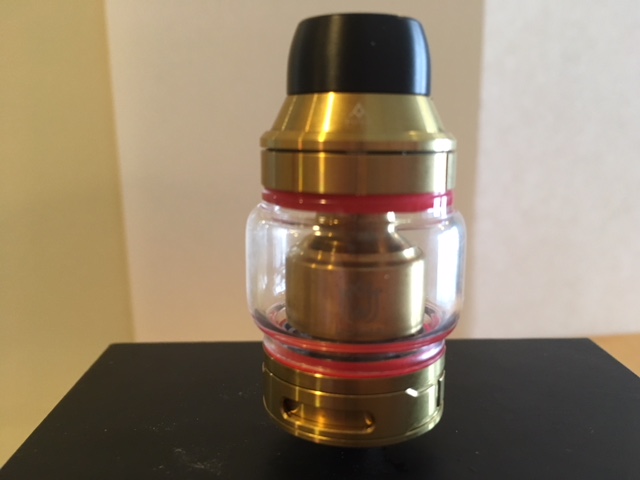 The top fill cap flips open and closes by pressing down and sliding a small tab to a locked position. I didn't care for the wobble and play I found associated with this feature and I wonder how long before this may or may not fail.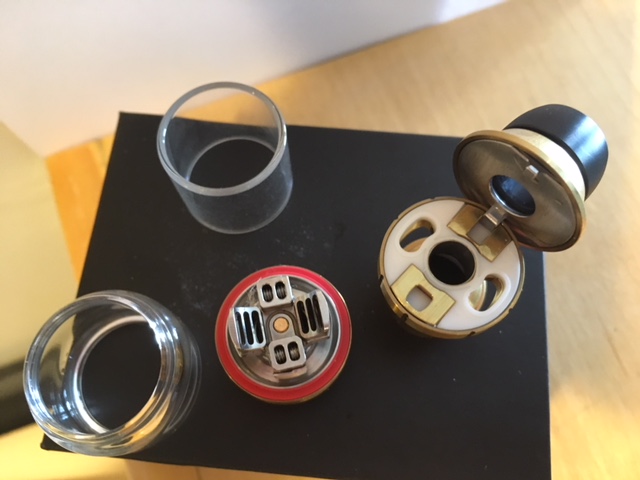 This is everything that came with the RTA. The Lotus, bubble tank and spare parts bag w/wrench.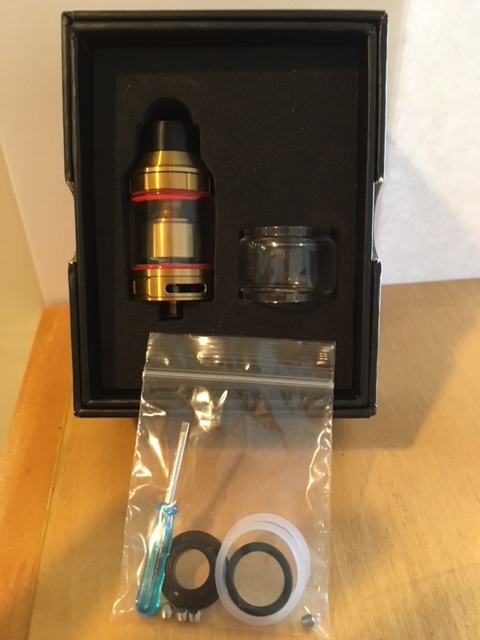 So here are the pros I found with the Lotus RTA
*3 piece tank-I love less parts
*Excellent machining and quality steel
*Nice looking tank with classic designs upgraded
*Bubble tank has 5ml capacity
*Plenty of air flow and air flow adjustment stays in place
Can use othe drip tips
*Produces a thick and dense vapor
*Grub screw placement doesn't crush exotic coils
And the cons
*Top fill hinge is wonky and wobbles
No coils or wicking material included
Conclusion and Recommendations
After spending a month with this tank, the top fill hinge has held up and I have not yet had any problems with the wobble in the hinge. I found this to be an excellent performing tank and the flavor production turned out not to be hype, it is phenomenal and very dense. The way this tanks vapes is unique to other tanks and has a superior vapor performance that can only be experienced by using this tank. I have not been this impressed with an RTA before, Wow.
As for my recommendations, if you are a flavor chaser or an RTA guy/gal, then this tank will not let you down. I tried exotic and regular wire coils and both performed beyond what I expected. If you are a new tank builder I do not recommend this to start builds on. The deck is easily to cause a short because of the short chimney and although that may sound inconvenient, this part of why the flavor is so great. Wicking is fairly easy, but there is that too much and too little component of cotton where other tanks are more forgiving, this one is not. But this situation forces the user to make the "right" or "balanced" wick for excellent performance and flavor. As for love for this tank, I can't put it down.