I was sent this device from Health Cabin solely for review. I have no affiliation with Health Cabin https://www.healthcabin.net/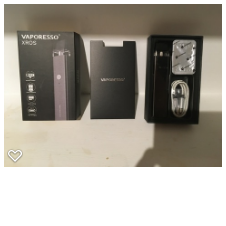 When I received this device I was hoping to get this review posted sooner but spare time and technical issues made me late. I'm glad it did. This forced me to use it longer and my thoughts changed about this device the more days I used it.
The Vaporesso Xros comes with two pods, one is 1.2Ω mesh and one is .8Ω mesh, I preferred the .8Ω as it is a bit warmer than the 1.2Ω. Although I found that the 1.2Ω seemed to give me better flavor notes with some tobacco mixes I enjoy. The pods don't just snap in like some others do, they are held in place with magnets. You don't have to worry about it falling out. I really like this feature.
The Vaporesso Xros has two different firing options available. It has press button firing and the button has a nice click to it. As well, has a sensor that allows for you to auto-draw from it. Just drawing from it alone will fire it. Also, I would like to make note before I forget, the device is made of stainless steel construction.
The pods hold 2MLS of e-liquid and they are very easy to fill. I give Vaporesso extra credit for having the fill hole up top with a small vent hole for ease of fill and you are able to see your e-liquid level. I was also surprised that I didn't have to use only the needle type fill bottles as you can even fill with a glass pipette . Yes, that's right it's a big enough opening to fit a glass pipette from your 30ML bottle.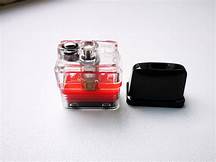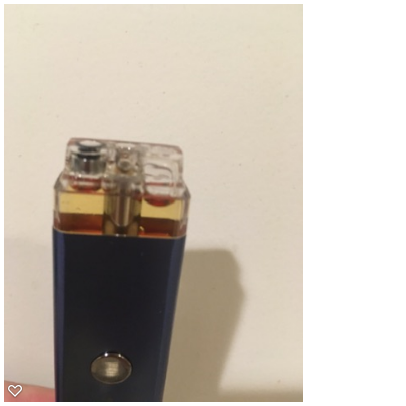 The kit comes with a USB type C charger and is of higher quality than what I am used to seeing in a kit.The charge level is shown on an indication light below the fire button.Charge levels are from green 70% to 100%, from blue 30% to 70% and from red 30% and under. This type C charger really doesn't take long to fully charge the battery. I charged mine from red to green in 48 minutes which is faster for any device I've ever used.
The battery inside the device is an 800mAH and the battery output power is 11w to 16wt depending on the level of charge the battery has. As well, I can't help but put high marks on how fast the type C charger will get your device ready to go again.
Another feature that separates this pod device from others is the new air flow selection feature. You can adjust holes from at three, two, one and none air flow selection. I tried all selections and found I liked the 2 hole air flow. Also, I'd like to point out that with the 1.2Ω pod I liked using my tobaccos with no air flow. It was as if I were taking a draw off a fine cigar. Really nice device and delivers satisfaction.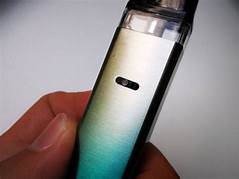 My experience after using the Vaporesso Xros for over 3 weeks have been a positive experience. I'd like to note that pods aren't my style of vaping, however, with the satisfaction I got from this I'll keep my bulkier devices at home and I will use this when going out. It is so concealable, gives great flavor and satisfaction (especially from a pod device for me) and the battery lasts for quite a while. I would also like to admit that I ordered another one after receiving this one because I liked it that much. I found for what I need at my office for all day two devices are needed when I don't have time to charge one up. My days can get so busy that I don't think to put one on to charge. So I found that I needed two at work but just going out one will do.
My final thoughts on the Vaporesso Xros are that I would recommend others to try this even if you have not liked other pod devices in the past. If you are a cloud blower or that 1000w power vapor then this isn't for you. But those flavor chasers, NET lovers and cigar/pipe connoisseurs this device will make you smile. I really could not find any cons with this device other than it took so long to get a pod device like this. Sleek and concealable, lightning fast charge rate, air flow control, magnetic pods and excellent flavor. I don't know what not to like. Vaporesso did an excellent job designing this device. I think they are going to sell so so many of these. I'm very pleased with this device. 10/10, no hype either.
For a low price on the Vaporesso Xros log in here at https://www.healthcabin.net/vaporesso-xros-pod-system-kit-p/24418.html