Beat me to it, paper label, clear tape FTW
gorilla hd clear baby over normal white copy paper w/ label printed w/ gimp. all for peanuts…


But i have to say Op got outta control and shoulve just posted/asked in @wvsanta suggested link Share your custom label designs, I'll start!
all related and the topic of sharpies and diff color painters tape was discussed/linked
Thanks for all the great suggestions , guys


Should've asked you guys long ago, instead of beating brains out, trying to solve it for myself!
My issue was wanting smear-proof labels. not custom designs, so i didn't even read that thread. There are a few other old label threads which I did read, but none really addressed my question, so far as I could see.
I do believe that labelling of bottles is quite a big enough topic to justify a few more specific thread titles! We surely shouldn't have to take ancient threads off-topic, nor scratch around to see where they did go off-topic.
OP is outta who's control, BTW?

she's in control of herself, which is good enough for me

I have been using a Brother P-Touch label maker (parting gift from a previous employer, along with a box of replacement tape, thanks old job). I think those super-fancy labels are actually pretty awesome but in the context of your original question, I have not had any issues with smearing or degradation of the labels so far after a couple years. I wish I had the budget and motivation for awesome looking labels but I don't. I just want them a little cleaner looking than painter's tape and a Sharpie (no offense, honest) with decent longevity, so I'm good with the P-Touch.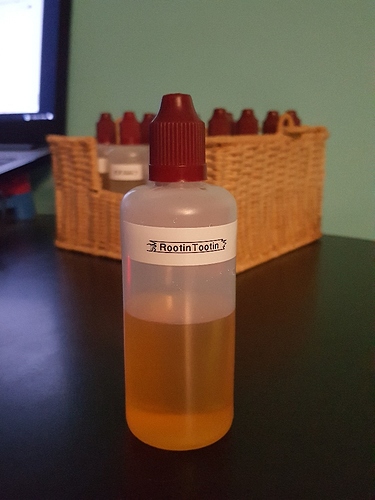 What are you saying about my handwriting

No comment; I couldn't read it!
Another company "Brady tag maker similar to p-touch
Mine was five-finger-discount, so I didn't have a lot of choice in the brand!
I have matching colour Sharpie and bottle caps I'll have you know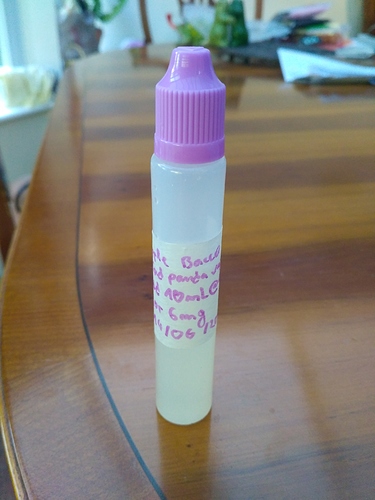 Ok, I'll stop derailling the thread

And they look quite lovely, be proud.
Okay , your handwriting is worse than mine…
Is that the word " panda " on the second line?
Hmm. Panda flavored vape…
No panda were harmed!
For the record this is one of my better written labels!
I use brother QL-700 to make my labels and then I seal them with clear shrink wrap tamper seals to protect them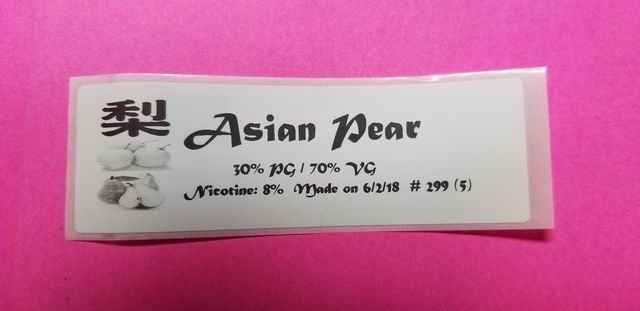 I'm kinda in the same boat… I've always just used a ball-point pen and masking tape for labeling. And will probably continue with that for my constant stream of testing.
But I've recently become the proud father of several hundred bouncing baby flavorings in 1, 4, and 16 ounce bottles/sizes - along with ~360 4oz, 48 16oz, and ~330 1oz amber glass Boston Round bottles to transfer everything into.
Heartland and WizLabs thankfully use polypropylene labels now, so I can easily transfer the professional labels over. But Bull City still remains as stubborn as, well, a bull - and continues to use those nasty old-fashioned paper labels that rip and smear. (It's also a heavily added reason I try to get as little as I possibly can from Bull City - on top of their rather anemic 1oz & 4oz bottles.)
Soooo, rather than starting to make hundreds of ball-point pen & masking tape labels with my illegible and crooked printing (yes, PRINTing!

)… Last night, I finally broke down and got a Brother PT-D600vp (for the hard-case) with dozens of different size & type labels (to also label cables).
It's good to hear that the P-touch labels don't smear, but I wonder about the off-brand tapes… I didn't even get one single Brother OEM tape since they were ridiculously priced.
I use Avery Weatherproof Address Labels #5510. If I remember correctly, they weren't easy or cheap to find. I bought them on EBAY for a lot less than office supply stores. They NEVER smear and come off easily and fairly clean from glass or plastic bottles. Much easier the the plain paper ones.
Duh?! "Weatherproof"? I've been using the wrong Search words! Cheers for that one Mate