Hello ELR vape fam. Today I have the SMOK T-Priv with TFV12 Prince tank to share with you. Let's just jump right in.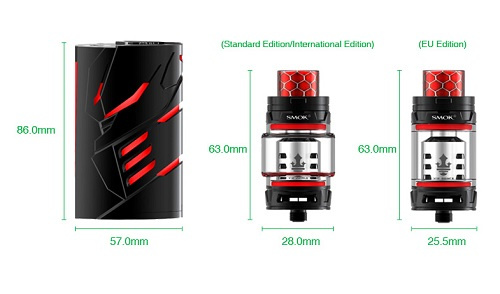 The model I received has both the bubbled and straight glass. No spares for either but if you do break one there is a backup.
IN THE BOX
The T-Priv 3 Mod
TFV12 Prince Tank
V12 Prince-Q4 (0.4 Ohm) coil
V12 Prince-T10 (0.12 Ohm) coil
Smooth sided replacement glass
USB Cable
Spare parts
Manual
First thing I noticed upon opening the box is the finish. This mod comes in Black, Prism Chrome, Prism Gold, Prism Blue, Prism Rainbow and Prism Gun Metal. This one is the Prism Gun Metal. It's absolutely beautiful. But it's also absolutely a fingerprint magnet. And for you fans of bling and sparkle, they've including their light show on this one too…
https://i.imgur.com/veRHPGl.gifv
But you can't judge a book by its cover, right? So to be honest and fair, the finish of this mod and all the vanity it may bruise does not tell the story. I've put this thing through the paces, testing power mode and all but Ni200 wire in temp control. Apart from some adjusting of the TCR, this mod is a performer.
Now I'll admit, I don't have the equipment to test for power. SMOK claims 300 watts. I did a build on a 30mm atty using twisted 24ga Nichrome 80 just to see if there's anything to those claims…
I managed to get to 255 watts before i had to stop. So I do feel confident that the T-Priv 3 at least approaches something around 300 watts. Oh, and a heads up. For all the surface area on top of this mod, you can't screw down a 30mm atomizer till it's flush. Major drawback for those who want this mod but also like their 30mm toppers. But all your 24, 25 or perhaps 28mm attys will sit nice and flush.
Aside from all the forensic evidence one can leave on the finish of the T-Priv 3, the other drawback is the temperature control function. SMOK seems technologically challenged when it comes to TC, but they did manage to do better this time. Still, at least you have the option to adjust the TCR. I tested with Titanium and Stainless Steel (I won't use Nickel). Stainless is decent enough that I didn't make any adjustments. However, I had to adjust TCR for Ti from .0035 to .0045. At that point I was getting a really good vape and the TC function seemed to work fine once my wicks were dry. I did get a scant bit of singed cotton taste on the last couple hits, but the wicks were bone dry so I was satisfied with it at that point.
The Prince Tank
The last SMOK tank I bought was the TFV8. It was ok, but I was not overly impressed with the coils. None of them. But the ones for the Prince have really impressed me. Knowing that I was going to give this kit away, I acquired a couple of the coil heads so I could review them and still pass on the full kit to whoever wins.
First I tried the Q4 coil. I wasn't expecting much seeing how I disliked the comparable coil head for the TFV8. I was very surprised. Massive air flow through a gaping chasm of a coil made for big clouds, but flavor was still on point. I ran this between the recommended 50-80 watt range. All good. Then I started bumping it up. I stopped at 105 watts as it was beyond what I would like as a vape, although it still was performing and wicking beautifully. I settled at 90 watts and vaped it all day. Excellent coil to be sure.
Next, the T10 coil. SMOK says it's best between 80-110 watts. So I started at 75 watts. Decent vape. If this was the best if would do I would be satisfied. But inquiring minds want to know, so I started bumping up 10 watts at a time.
85 watts. Much like I vape normally, just not as warm. The flavor is good and vapor is abundant. I can stay keyed down on the power for a good 4-5 second draw with zero wicking problems.
95 watts. Considerably warmer. I'm not making it past 3 second before i want to let up off the switch. In this draw it's wicking great still. Flavor increased a bit.
105 watts. About 2.5 seconds is enough for me. Flavor intensity isn't changed much but heat is obviously greater and the cloud is thick and dense.
Skipping to the "maximum" power rating of 120. I can take about a 1.5 second hit. Vape is warmer still, but flavor remains very saturated. This is a very lovely vape!
So coil performance aside, what else is there? Well, this is my first experience with a bubble type tank glass. I remember when I first saw one of these how ugly I thought they were. But I think having seen them so much now either I've become accustomed to them or changed my attitude, because to me they're aesthetically pleasing. But beyond looks, the functionality is important. I feel that added space between the glass and atomizer promotes better juice flow, which may account some for their excellent wicking. My 80/20 VG/PG juice had no trouble getting to the coils of either of these at any power setting. But I also feel SMOKs wicking material choices may have changed as prior coils were often slow to prime. These are different. A few shots of juice on the coils before installing them and then a 3 minute wait after filing the tank, and they're off to the races.
I can't forget the simplest yet most innovative change SMOK made. The top fill cap is still the same swing out design as on previous tanks, yet they've added a little locking latch so when you open it you push on the latch to unlock, and when closed it holds it in place so you don't get those inadvertent openings of the fill cap as in older tank versions.
If SMOK had included the RBA section for this I think that would have made this the perfect tank - versatile and full of choices. I did see on their website that it's available for purchase though, so anyone who wants to be able to DIY their coils yet have the option to plug and play, this would be a good tank to own if you don't mind shelling out an additional $20 for the RBA.
Quick Pro and Con
T-Priv 3
Pros -
Beautiful
Long battery life with triple 18650 cells
Big power
Cons -
Fingerprint magnet (on this model anyway)
Less than stellar TC functionality
Top-mounted display
Prince Tank
Pros -
Large capacity
Great airflow
Locking fill cap
Can use your 810 drip tip
Cons -
No RBA section included
That's it folks. I feel I may have left something out here, but my final conclusion is, if you want a mod that has all day potential and you don't mind the finish, the T-Priv 3 and Prince is an excellent combo. I almost hate to give this away. But I will. Unfortunately I've still not found my groove for international shipping so once again the giveaway is open to folks in the US. To enter -
Go visit Health Cabin and find an item you like, then link it here in your reply. You'll automatically be entered for the giveaway. I will randomly pick the winner on Tuesday, May 15. Also Health Cabin is having an anniversary sale to mark their 9th year in business. Congrats @HealthCabin!
That sale begins on May 14 and looks to have some great deals. Check out their post.
Good luck with the giveaway to all who participate, and thanks for taking time to read