Snow Wolf 200w TC Box Mod for $88.49 with Coupon Code 5off or Vapecrawler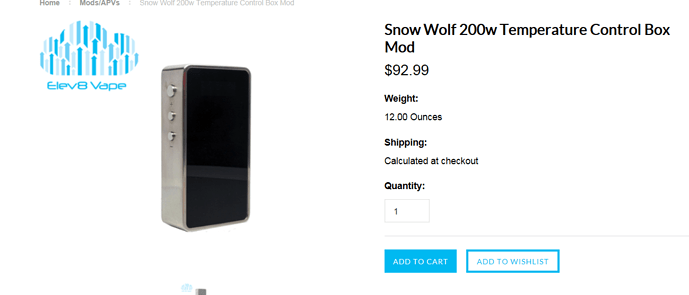 I was looking at one of these but I'm now sniffing around a ipv3 li . I've been hearing good stuff about it including new software that makes it compatible with titanium temp control …have you checked these out @NewDrip
I was about to get the IPV3 and changed my mind to the Snow Wolf. Usually Tio2 works on all TC anyway. I like that SW goes down to .05 in both modes… that's what done it for me. Who knows I probably get it too.
Nice review …I think I still would prefer the ipv3 though !!
That's true but most don't have proper setup for true readings of the wire from what I've read . And the ipv3 has an update to bring it to 200 watts . It just came on FT today for less than the snowwolf as well😃
Price isn't an issue… I have 2 IPV4s already and want to try something different. I'll eventually get one though. I also have the Sig 75w on Preorder. What I really want is Sig 150 TC. Have you ordered the IPV3 yet. The best price I saw was $81. What have seen it for?
Regardless of the temp setting, I adjust it to my preferred vape. It still stops at a dry wick. If you want a true TC that's on point, it's the DNA chip. All the rest is off a bit.
I'm not a big FT fan anyway. Minimun 2 week wait… I'll pay more to get now.
I think it was 89 on FT . The sigs look interesting for sure , they say they are using there own chip . I like the look of the 75 but not the 150 .
What about the look of the IPV4? I think its the ugliest mod I own.
I think it's second only to my invader mini ! But I see where your going with that lol
I also prefer the look of the snowwolf to the Ipv 3 li but I drop shit and would have that broke in no time I think .
I've been lucky… never dropped 1 or broke a tank. I have knocked them over tho.
I dropped my IPv4 off a fridge onto a concrete floor the other day . The battery cover popped off but it didn't crack and the thing didn't skip a beat . I've broke three tanks now tho but I've gotten smarter and started buying replacement glass