From @woftam over at the VC. A really good, free guide to share with anyone still smoking …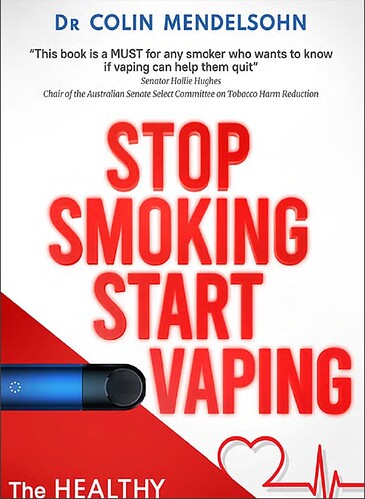 I'll definitely give it a read to see it if will suit others.
I've always found that most struggle with the hit and absorbing nicotine through the cheeks. As I was mostly a pipe smoker - it was business as usual for me.
Thank you SD for bringing this to my attention. I also want to read this interesting book. I know that after extensive talks with my personal doctor about vaping, that she has began to recommend vaping to her patients who still smoke cigarettes. As I explained to her that vaping can greatly help with giving up cigarettes, though the person has to have the final objective to be nicotine free to quit vaping also. She asked if it was possible to quit vaping and I explained that it is possible by slowly decreasing the users nicotine level slowly over a period of time. I started back in 2015 @6mg and only in the last year started to decrease my nicotine. I'm currently down to 1.5 and going to 1 mg on my ADV. Hopefully to be at 0 by the 1st of the new year.
All props out to @woftam on the VC, but thank you as well.

LoL ever since I started on ELR forum I haven't even visited VCC. I guess I should pay Grubby and the fellas a visit.

I sometimes get summoned to the other sites from time to time: The Rite of AshkEnte backwards can be rude but luckily it's only been used for technical tobacco questions so far.
We're all part of the same family @McDuckie.

Really LAME attempt, trying to hide your SPAM link in the quoted area


You can do better