The description for this flavor on One-Up's website is:
"Watermelon and guava blend together with our secret blend of tropical fruits to give you a taste you won't believe."
I haven't tried the original, but their description and the flavors in your recipe does not compute.
However, I do like Forest Fruit, and your recipe looks like something I might like and will probably give it a whirl.
I was really suprised by the tast. It's AMAZING! Before i was smoking the original alott and i really like it. Now i wil never buy the original again😅 Hope you try it, perfekt as an shake and vape
Ahhh young padawan. These flavors (especially Custard) will change noticeably upon steeping.


What's your best mix with Forest fruit mix?
I'm with @sirgalvid1, this looks weird enough I might whip up a 30ml to test that SnV-ability. @Juice-k be sure to carefully enter all your flavors so you get the maximum database matches for "What Can I make" …the Vanilla Custard should display as "Vanilla Custard (TPA)" in your stash …and remember we are all just trying to aid in your DIY Journey …oh and WELCOME!
Thanks for intresst and advise

Hope you try It out
I noticed that in the screenshot as well, but when I went to the recipe, it was listed as (TPA). Dunno if juice-k or ken corrected it.
My thoughts exactly! I don't have vanilla custard but I'll try LB vanilla ice cream instead.
@Juice-k Ok I just mixed this. As a SnV it's do-able, but as an major indulger in steeped Custards I have to let this one sit for at least a couple weeks and come back, and then 4 weeks (looking over at @Sprkslfly) Thanks @Bikerdude for the LB Vanilla Ice Cream idea …sounds legit (still 4 weeks steep).
As crazy as it sounds you might be able to get away with calling it watermelon guava …Forest Mix (FA) is kinda strange. On it's own it does have some potential, but I've never had the original. I'll come back in August …this does have something goin' on …not mind blowing, but not crazy either [vape][vape][vape] hmm interesting use of FM for sure and the %s seem legit …worth a 30ml test, thanks for the share. Now I need to come up with a less homoerotic name to print on a label
[vape][vape][vape] I'm kinda likin' this after steeping for 15 minutes

It's growing on me even tho it's breaking all the Custard Rules. New name tho? maybe not Orgasm or Fruitycreamripe? …Cream of SumYungGai?
Ooops i just realized I subliminally subbed Vanilla Custard V1 (CAP) for the TPA. I'll mix another with Vanilla Custard (TPA), maybe even another one with LiquidBarn VIC. Imma vape on it… [vape][vape][vape]
@Juice-k ya know you can mix 2 bottles as fast as one, just put them both on the scale at the same time and hit Tare between each step …and don't answer the phone …or fetch a cold beverage. Ok now I have 3 "Juice-K"s to SnV and now some might make it 4 weeks (CAP & TPA Custards and a LB Vanilla Ice Cream).
Ok CAP was a better SnV. The TPA has that familiar but slight peppery thing (that steeps out for me) totally different type Custard which blocks the Forest Mix a bit as SnV …good test for a newbie …familiar taste, takes me back to the first days of DIY when everything was a SnV
[vape][vape][vape] lucky for me my tester RDA only holds a 1/4 ml (flush wick with a couple drops of straight VG)
Ok LB VIC …smooothy smooth but not as flavorful as the CAP V1 which played very well with the Forest Mix (less masking as a SnV) All 3 need some time. I might not have gone forward with my tests of all three if I had mixed with TPA first because the Vanilla Custard v1 (CAP) for me was so much better. Look forward to these in August!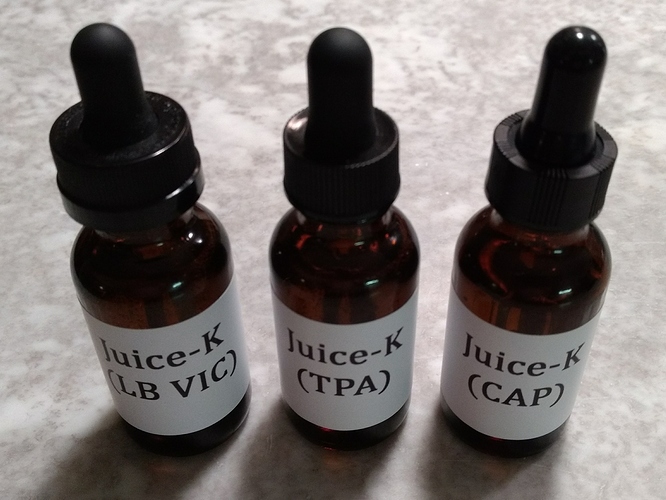 Ok we're approaching two weeks and the TPA is still the standout. I have to say you nailed the Forest MIx. If I had to describe, not knowing ingredients, I might say watermelon and guava. The Liquid Barn Vanilla Ice Cream is tasty but overpowers the underlying mystery fruits …so does the CAP VC. Both are potentially the winners but not at 2 weeks.
I will likely mix up 120mls of the TPA version as the %s seem precise and in no need of change. It will also surely taste better with a full 4 week steep, but it's has that weird SnV appeal that takes me back to when I didn't understand how much stuff improved with patience. Again if you are NO fan of TPA Custard (or VBIC) you will NOT like this. I confess to vaping the heck outta this …will come back in another couple weeks.
When I get a sec I'll check to see if there ia already a recipe exactly like this besides @Juice-k heh maybe "Special K" …surely that's already taken