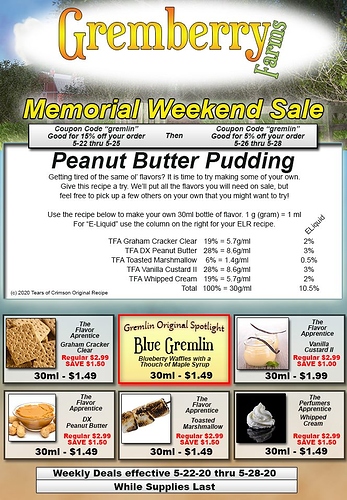 I might have been tickled pink by this

https://gremberryfarms.com/weekly-flyer-1/
Find the recipe here: https://e-liquid-recipes.com/recipe/3561007/%23TPA+CHALLENGE+TOC%27S+PB+Puddin
Congratulations. Im going to have to whip that up over the weekend. I LOVE peanut butter everything.
Well done Michelle and congrats for both the flyer and the challenge, in the challenge my recipe was just right after yours!

Looks like we both did a good job! keep it up sistah!
I hope they do more of those Frank, and good job to you as well!
I don't have the dx peanut butter or vanilla custard tfa. May try subbing cap vc and original tfa peanut butter.
Like the challenge don't you?? I love how they did it, it's a nice way to squash your brain and do the best with what you've got… try different routes and have nice knowledgeable people around, like you and the lads.
If you see some that I might not catch due to EU times, please give me a shout… (I nearly missed that one) Thank you
Wow, that's GREAT Michelle, I honestly have never vaped PB, guess I gotta rethink that and get me some PB!
Well done!

I really love it Frank. It gives people the chance to show how they build recipes and for me I just love having an idea thrown out to mix and getting feedback. I'll try, lol I miss so many shows lately.