What this means now is that "FOR THE CHILDREN!!!" becomes much more boisterously shrill

Thank you, thank you! Finally! Not from the U.K. but from here. I am astounded. How could our gooberment let this happen? Stanton Glantz eat shit and die! All those mock tribunals over the years can hang their heads in shame. Tobacco master agreement be damned! One more nail in the gooberments war on vape campaign. These things are being noticed. Even U of Michigan is doing a 180 with their rhetoric. Of course Hitler's prolific "for the children" will continue to be the mantra of the anties. Well just have to wait and see what traction it retains.
Thank you @TimWV, but all all credit out to GrimmGreen, and MisterSadister for finding it …
@robrrt1 yeah, that thought DID cross my mind as well.
@SmilingOgre you took the words RIGHT out of my mouth brother.
Sadly i think that report will eather be misrepresented or ignored altogether.
This will then show whats really going on over there.
I hope , for the USA, this is the first step to change when it comes to vaping
Thanks for posting this. We need more videos and studies like this to hit the mainstream media. I get frustrated by much of the anti-vape "news" and seeing something like this makes me smile.
glad to see the studies, we need as many as possible, thank you

I work in an assisted living facility as a chef.
I make runs between two buildings, with an "outside" betwwen them.
I was vaping on the outside part of the run and a caregiver I'd never met yelled "YOU'RE SMOKING?!"",
"No ma'am""
"YOU'RE VAPING?! THAT'S JUST AS BAD!"
I simply laughed a maniacal laugh with clouds encircling me.
If I wanted your "opinion" I'd have asked for it.
That's the key isn't it. If all she has heard is mainstream bashing then that is all she knows. Expand that to people in general and now the bashing is the "known truth" or common knowledge. This is the working essence of propaganda. All for the end game of selling you a Coka Cola or in contemporary terms Skyrizi.
I have had as few people here tell me that vaping is actually worse than smoking… drives me mad that people are so stupid!!!
I've been subscribed to GrimmGreen (Nick) since 2013 and I really appreciate this series of his. His last 2 videos have been vaping devices, but I hope he's not done with the series. If you want more videos of this type, check out Brent Stafford of Regulator Watch.
https://www.youtube.com/@RegulatorwatchTV/videos
PROVEN CORRECT | Largest U.S. Study Shows E-Cigs Help Smokers Quit | RegWatch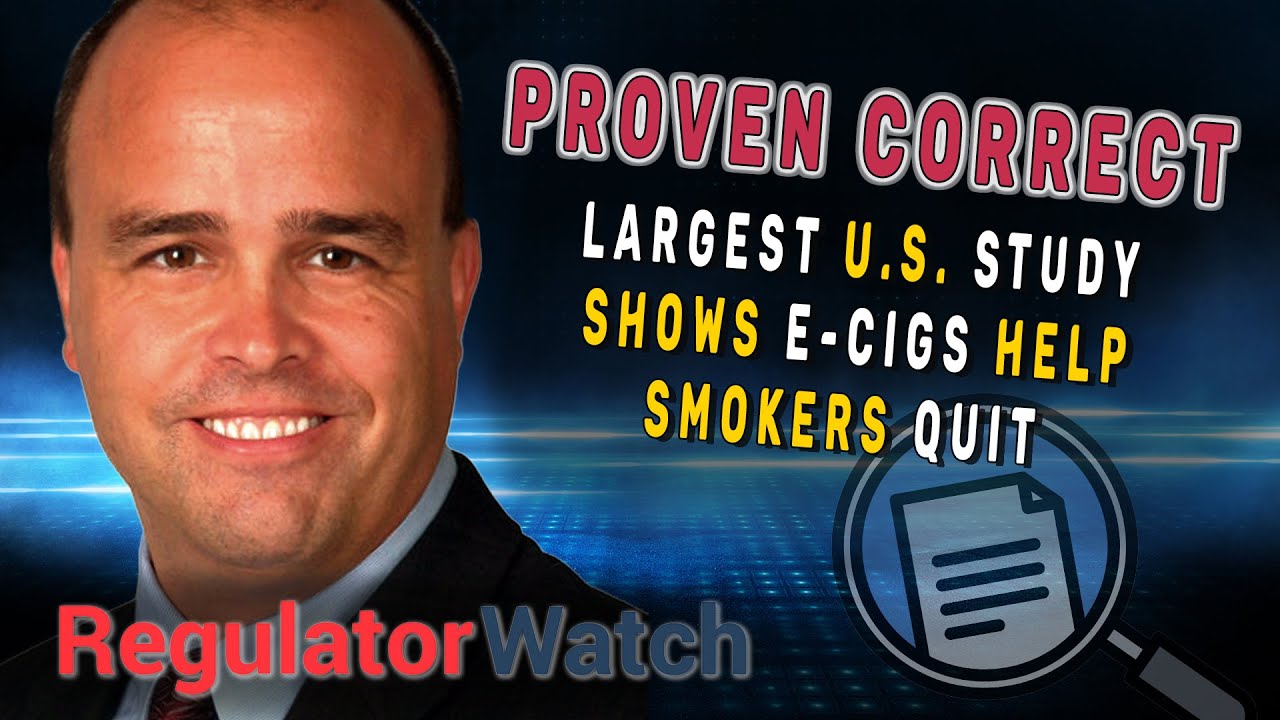 This may be where Nick got his info, but it's about the study Nick was talking about. This is an interview with Dr. Matthew Carpenter of MUSC Hollings Cancer Center.
Thanks a lot for sharing this @100_VG, I shared this one back on the VC where I found the OG video.
I probably get that on a daily basis now thanks to our 'fantastic' government.
I'll add I've even had one bright spark telling me I should return to smoking immediately and hope I've not done any great damage to myself.
@Gazza7 first coffee spit of the day mate !!
And there is the SECOND one.