I think I just threw up a little bit in my mouth.

Where are you looking for recipes? Have you tried the recipe side of the forum? There are multiple 1000s of recipes here. I can't even look, I find it overwhelming. I just know what I like and I try to make it with the help of my friends here.
I'm working on something but I don't want to recommend it before I like it or not, myself. But I'll give you a hint if you want to mix something yourself. Cucumber/Watermelon/ Spearmint. I don't usually do menthol but a friend gave me a honeydew w/menthol in it once and I was blown away. I think I could vape a variety of many fruits with a cooling agent and enjoy them…surprisingly. Maybe not banana

Ooo sounds strange but lovely… And ye banana isn't one I like either…
Il look forward to trying out your recipe

Yes and like you said … overwhelming and 1000's. (Also heard some of the ratings may be skewed ) I do know there are many experienced mixers who participate here on the forum side that surely have a favorite out of all the other wonderful mixes they have made.
I do understand if they don't post it , if it is sold commercially. Otherwise I thought it would be a good place for others to come to see the best of the best. YMMV
Can't live without ? Maybe. Sure vape these a lot though …
Of course, I omitted the onion

but the recipes containing feta cheese, you could try Greek Yogurt (FLV) instead.
@Mew don't mean to overwhelm you but you may want to try here as well.

Of course, it doesn't compare with ELR

where it's easy to speak with the mixers and get advice.
I have too many ideas and recipes both to pick. All of my commercial recipes are not on site. My privates are well… private, but you can always scroll thru my public recipes. Mind you, they are all FLV… and I love it… I do not have an all day vape, but I can vape any of my recipes and switch them around during the day

@Mew Just for fun, have you ever tried this?

@muth I didn't think I liked any cooling effects in ejuice ever since I really got into vaping & off the menthol cigarettes…, but here a few months ago i was out in town & forgot my juice, so I tried a frozen banana or something like that, it was a puff bar… it was pretty good tho…
Again, I say:
Give it a 15ml test. If you like fuzzy navel or peach w/orange juice, you'll love it! It is delicious!
@muth you can get some CRAZY recipes there !!!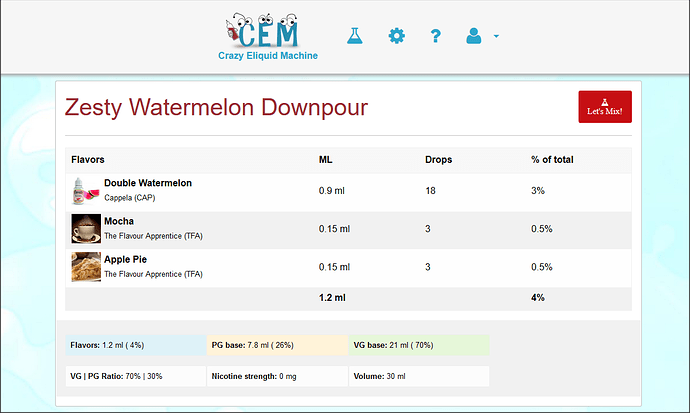 One I can't get enough off is
And good for all who bought Pomelo at the RiverSupply Sales and thought what to do with it…
Always have a 500ML of this! its delicious and would keep its flavor if I was stuck on that damn island for a long time!
Surprising combo but I bet its good! @muth
Well, I'll certainly let you know when I'm done with it.
Maybe overwhelmed was not the correct word to use for myself when browsing the recipe side. Anyone can post recipes there and well I've been following this forum for a few years now and know the mixers here do their homework and I respect their choices. It's good to see some of their favorites.
Thanks for the links. I'll check them out.
I'd never say I can't live without but I definitely like this one in the summer. How did I arrive at adding almond and marzipan to a peach juice?
The secret is apricot pits . The pits of apricots, nectarines, peaches and plums all contain a kernel that tastes astonishingly like an almond .Aug 9, 2000