If you could only have 25 flavors to mix with, what are they?
this is an impossible list to make ive been mixing 2 years and have about 220 concentrates other than a few duds they are all useful in different recipes and i have a few carts im making up to order ill prob have about 260 concentrates after this round of rebuys and 40 new ones gotta get more VTA and wonderflaver sc's, and i ordered chemnovatics lemon cream wafer which is suppose to be the lemon cookie part of DLLTart we shall see got my fingers crossed but just study your flavors b4 buying i have tons of great ones but i really studied a lot b4 buying have fun mixin
I have 120ish myself. Was curious what flavors would be the same in everyones top 25.
FE sweet rice
INW yes we cheesecake
Flv mango
Flv milk and honey
LB VIC
Lb coconut milk
FA custard premium
Flv rootbeer
Wf flapper pie
Wf banana puree
Jf biscuit
Fa mango Indian special
Flv basil
Fe lemon
Mb big watermelon
Vta honeycomb
Unsure how many that is and in no particular order. Missing quite a few I'm sure but it's my list so

.
Best I could manage was 30…
3 yogurts
1 mascarpone
3 oranges
5 lemons
2 limes
1 guava
2 grapefruits
2 raspberries
2 creams
1 kiwi
1 forest fruit
4 florals
1 cookie
1 dragon fruit
Did not include the 4 additives I would also choose.
Here my 25 plus flavors.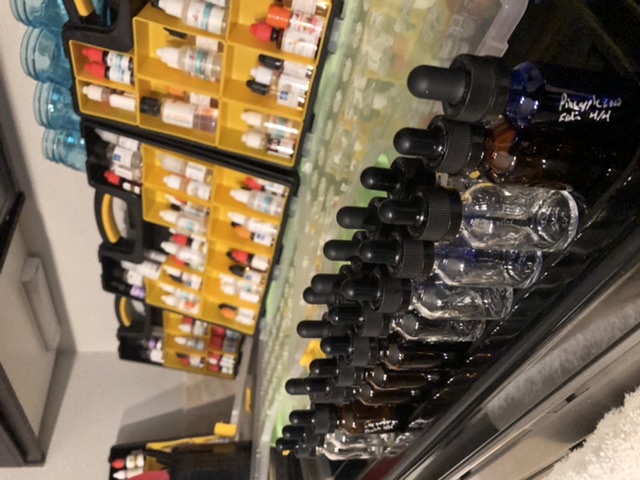 Unpopular opinion, but DIY - Do It Yourself. Because in the end you're only mixing for yourself - some flavours others like you may not, etc. So pull the trigger on suggested flavours and determine whether you like them or not, it's all subjective. Be prepared to lose money too, because some you will never use.
Welcome to the hobby!
I also have more than 25 required flavors, I couldn't get by with just 25! Heck I use about 10 different vendors even. No way I could ever pare down to just 25 individual flavorings.
Very true.
Very, very true.
I tried the 25 favorite flavor challenge, (excluding flavor enhancers) couldn't whittle it down to 25, need help🤪
What would You take off the list;
Avocado (OOO)
Bacon (OOO)
Barbecue (OOO)
Beignets (OOO)
Blue Raspberry (candy) (OOO)
Caramel Popcorn (OOO)
Chili (OOO)
Cream(milky undertone) (OOO)
Fried Chicken (OOO)
Garlic (OOO)
Nutty Professor (OOO)
Onion (OOO)
Pickle (OOO)
Salsa (OOO)
Sweet (Mexican) Bread (OOO)
Apple Filling (FLV)
Banana (FLV)
Milk and Honey (FLV)
Pineapple (FLV)
Pound Cake (FLV)
Cranberry (CAP)
Cinnamon Spice (TPA)
Wintergreen (TPA)
Cream Fresh (FA)
Cappuccino (SC)
Coffee Liqueur (VTA)
Fuji Apple (FA)
Lemon Sicily (FA)
Harvest Berry (CAP)
Sour Blue Raspberry Candy (WF)
Brandy (FA)
Blackberry (TPA)
Nothing but all Flavorah for me… you guys can keep the rest…
I have more than enough and even then some!

Hi smoky hope you safe be nice if you would share some with me please

Yeah, I'll take some of them too if ya got too many🤪
Love the Pound Cake btw, it made my list!
I would, but you are across the pond, Ben… I would love to… but I truly hate customs…

You know how to get ahold of me, Rocky… I do have some things in my fb group too…

Yes SB I do! thought you were doing another giveaway haha, just kidding


Don't do FB in years, would like to know where you keep all your one-shots listed? Hadn't seen any on your web page. I really haven't been disappointed in any of the FLV flavors I got yet!

I took them down due to covid19… I also stopped selling my lab flavors too, bosses orders.
Opened the lab flavors up last weekend and have been playing catch up…
I don't sell them publicly… You know that. The list is in my group.
Been super busy but it looks like a good weekend for me!

Oh, forgot about that, duh!
Yeah I'll hit ya up again for something soon👌
No customs to deal with in WA

. Even with my full nail polish rack and then some, of flv I'm amazed how many recipes I can't make



.
You has the full pokemon set of lfv??