Looking for something to replace torrone in a recipe I'm working on. Please help
Whats the recipe ??? And what are you using the Torrone for
fidalgo_vapes Will share recipe when done with it. It involves yellowcake and the torrone helps it feel gooey in your mouth.
fidalgo_vapes knows his stuff if you give a bit more away maybe we all can help you he helped me with a fruit custard
Englishguy
yellow cake
Torrone
Sugar cookie
Cake batter dip
Butterscotch
VBIC
Malted milk
Looks nice what VBIC you using
For now I have TFA
my next order from nic river is large but I gotta make it home first.
I recommend liquid barn ice cream
I would suggest sugar orchid… I use it from .12% up to .4% because at .6% and up, it is more of a sweet pasty almond… would work for a sub.
fidalgo_vapes
Englishguy
SmokyBlue
What percent would you add a fruit if any??
depends on manufacture and which fruit, at least for me.
If I were to use alpine strawberry [flv] it would be 1-2 bottle drops in 30ml
blood orange [flv] from .2% up to .8%
From the looks of the flavors you are using the fruit may need to be pushed a little higher , but that depends on percenatges you are using currently…if you wanna PM me I would love to help if I can…What fruit are you thinkimg about ???
@fidalgo_vapes maybe blueberry
My stash is mostly tfa. And I'll have to figure out my percentages and how to pm. I'm new to the site but diy-ing a few years off and on.
If you can make your Stash Public ill look through it if you would like . As far as BB goes FW Blueberry is really nice with bakery type recipes .You can always go with the the TPA BB combo of wild and extra
Will do and I have both of those bb tpa lol
I started the video at 6:50 where I talk about torrone and marzipan. The short answer is FA's Marzipan and INW's Nougat will both do nicely when replacing torrone. If you use FA Marzipan a little Almond added to the recipe would be ok. If you use Nougat then you won't need to add Almond
That front image there looks so dang good. I haven't had that stuff in forever.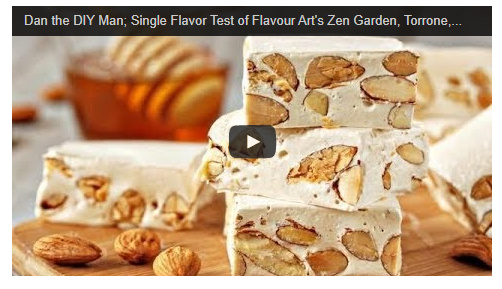 @Dan_the_Man I missed that video of you. Anyway I will go for your Torrone custard right away. Thank you for bringing this flavors in your review.
You are very welcome. I hope you like it and even if you don't I would still like to know why so I can become a better mixer. Thanks Steve.