I'm sure most of you have heard this, although just in case, is there any need to go crazy & buy shed loads of tanks bigger than 2ml before this crazy law comes into play, RTAs/RBAs/RDTAs/RDAs, larger tank upgrades may be affected, though technically these are stand alone, except the RDTAs?
Here is a selection of some of my stuff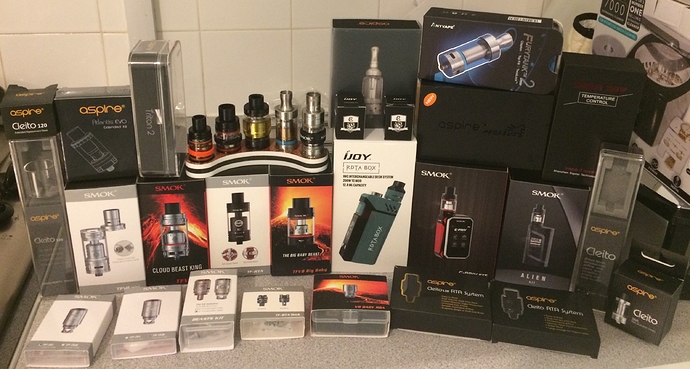 I recently spoke to a fella in a very well established Vape shop, he seemed to know his stuff and he told me that there are auth codes for coils???
What does this mean to us lot, well…
If a particular vape shop has the auth codes (or whatever they are called), they can sell you any size tank as they are basically giving you the tank for free as far as the law is concerned and they are just selling you the coils.
Sounds like good news on one aspect of the TPD.
As far as purchasing juice above 10ml, I do not think that this will worry anyone on this site, for obvious reasons.
The good thing about the auth codes is not a lot of online retailers know about this trick.
So now is a great time to grab a bargain before they all find out.
As you have probably noticed, tanks, coils, add ons etc. have been reduced quite significantly, I just picked up a Smok TFV12 RBA Edition for less than thirty quid.
Also this guy told me loads of companies are kinda crapping themselves as they don't want to get in trouble or be fined or whatever they think the consequences are for selling tanks bigger than 2ml are, so they bought a load of stuff cheap and so can you, if you act now.
Disclaimer: I'm not sure how true this is, although this guy is quite a reliable source from a reputable company and they are not worried about selling tanks bigger than 2ml.
Though a lot are, just look at the prices online and many vape shops.
So grab yourself a bargain now.
Now all we need to do is falsify some documents to carry on buying 7.2% nic as wholesalers lol

Happy Easter
Shane