I emailed US Senator Bob Corker from Tennessee for the latest CASAA call to action and it doesn't seem as if he's gonna give us any support. It sounds as if the Big Tobacco Propaganda machine has already gotten to him. He quoted a couple of the standard antivape anti-facts and brushed my ass off. I'll remember his sorry ass when it comes time to vote. Here his sad ass response. Excuse the Mr. and Mrs. part… I wanted him to think I had more votes.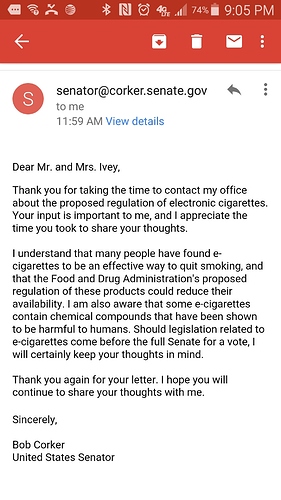 I will continue to email him weekly to share my thoughts with him. I will also attach some of the false info being fed to public about vaping.
We as a group should make a petition and testimonials so we can bombard their emails. Maybe in numbers we can be persuasive.