Upgraded materials:V0 class fire protection bridge
More effective juice-proof structure

Protecting components for a more durable and stable chip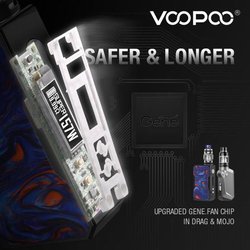 GENE VAPE SOLUTIONS— A Veteran technique provider with multiple patents of technological invention. As long as the product is equipped with the Gene chip, it will generally avoid malfunctions. The rate of poor quality during manufacturing is very small, only six in ten thousand, and it is with a zero of complaints rate from customers.
In recent years, VOOPOO has been in a long strategic cooperation with GENE, rolling out a geek custom made version of "FAN" chip aims to provide those high-end quality-pursuing customers with more excellent services and more personal DIY options.
The newest GENE. FAN chip of military grade with a instantaneous firing time, supporting you vape instantly. For the after sales service, customers are entitled with one-year warranty for the board and lifespan repair service.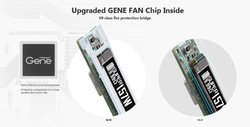 Since the last few months, we have been using the upgraded GENE.FAN chip in mods like MOJO & DRAG. It's a tiny change that strongly strengthens the chip to be safer and more durable.
Within the new chip, a V0 class fire protection bridge is structured, which makes the whole chip more effective in juice-proof and protecting components from most external damages.
VOOPOO always strives for your best vaping experience. The pursuit of perfection inspires us to create better ideas, products and solutions.
More details about gene chip please click: http://en.voopootech.com/gene
Or @voopootechofficial on ins