I LOVE strawberry milkshake RF!!!
Ordered some more flavors … loollll. Approaching 400, so it's officially out of control at this point. Luckily the Sweet Rice and Butter showed up, so I can finally make a few I've been holding off on.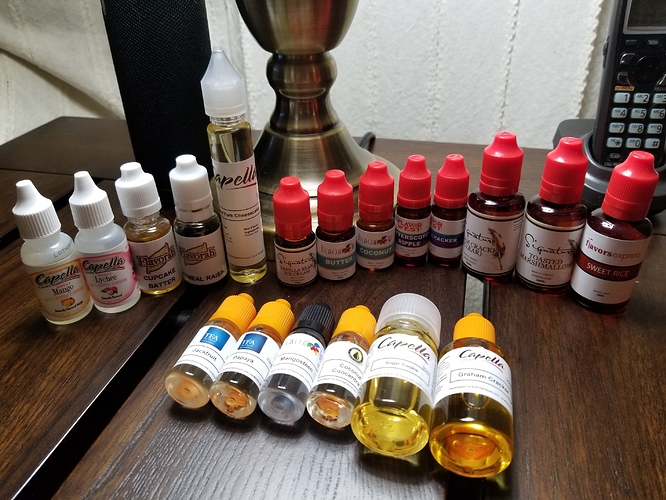 Tfa Jackfruit is damn good, IMO. Fa Butter also another winner.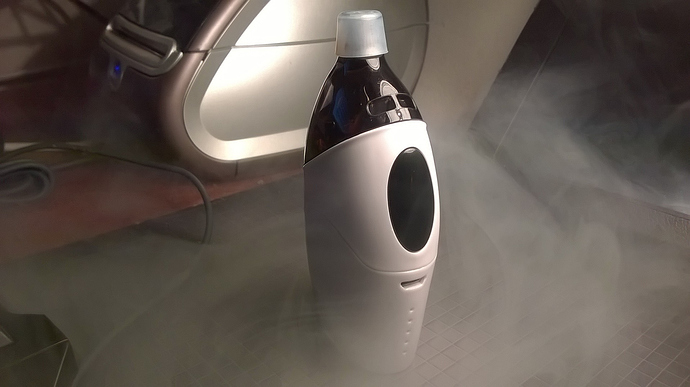 Its a
Joyetech Dolphin
All sorted now??

Hmmm wut might those few be?

what are you doing with that FA mangosteen ?? just curious ive had it for a long time and its a hard flavor to figure out what pairs with it well , ive vaped it more as a SF
Hehe good question @fidalgo_vapes. I've never tried it, have no clue about it, but saw an interesting recipe which called for it.
| Ingredient | % |
| --- | --- |
| Cactus (INAWERA) | 0.56 |
| Jackfruit (TPA) | 2.25 |
| Mangosteen | 3.38 |
| papaya | 0.28 |
| Pineapple (LA) | 1.13 |
| Strawberry Shisha (INAWERA) | 0.56 |
| Super Sweet (CAP) | 0.75 |
| Sweet Lychee (CAP) | 0.17 |
| Sweet Mango (CAP) | 1.41 |
| Vanilla Swirl (TPA) | 1.13 |
Flavor total: 11.62%
Remember to rate it at
e-liquid-recipes.com!
@Grubby I don't mean to point out the obvious here, but I shall. Alien avatar (check), Cosmic in the username (check), possible secret spaceship with accompanying alien fog (check), multiple posts withdrawn for unknown reasons (check, check)…
I think we know what's going on here…
i would love to know how well that works , for me koolada is a menthol flavor one drop up to 1 pct , i get No cooling effect so ive been waiting to hear how thw WS23
Thank you @Whiterose0818 all arrived safely - not sure what your bubble wrap budget is mate but thanks for the extra care.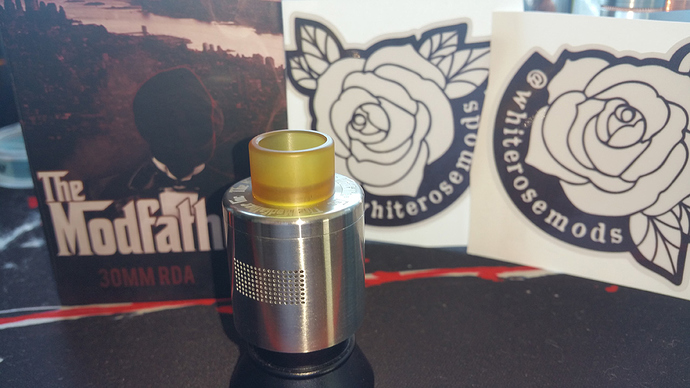 Couldn't wait to mix a new recipe so I pulled 10ml of a Caramel Frapp I have steeping and put 2 drops of WS/23 30% in it. Cooling effect achieved. It did not change the flavor, but the cooling changed the perception of the recipe entirely. Definitely made it better so far. Much more cooling on the inhale. After vaping when I inhale through my nose I can still feel the cooling on the back of my throat. Liking it so far.

awesome that this came up since i am waiting on ws 23 to arrive. I decided to give it a go since they were out of koolada for my fav that i may hit 1x a day to clean me out. I recently tried a gummy bear mix and used a tad. 2 drops in 10ml being 4 drops=.10g=1% in 10ml, so ill try .5% initially. I hope to get it this week to fiddle.
That mod on the left looks nice. Is that the sxk mini?
Have you given Polar Blast(FA) a try? I tried Koolada and didn't really care for the taste, but Polar Blast gave me the "cool" sensation I was looking for without any added flavor. Not exactly at WS-23 levels(haven't tried; only heard) but still a decent product IMO.