"Oh, I wonder if there are any drip tips on thingiverse?" I ask myself, and so it begins >.> I hadn't shopped around in about 2 years and it looks like vaping has changed on me yet again! Ah, for the good old days of the pyramid teabag mod in the titan 510, totally wicked, and only rumours that some people built their own atomizer coils!
What was I talking about?
Right, so I printed this expansion chamber, and then realized only two of my tanks have a 510 connection up top because, why should anything be simple? And, well, lots of them probably came with adapters that I may have throw out when I moved, I lost that whole little shelving thing I was storing "I've never used this" vape stuff in.
But, the thing is, the chamber only fits RTAs - or much thinner mods than mine for an RDA >.> Damn. Let's look at RTAs! [3 hours later] WTF is a flat clapton? [2 hours later] did Hades and Hephaestus has an orgy!? All the different kinds of metals man! And there's square wire too? Crazy Wire, you deserve your name! (their website is wireandstuff.co.uk tho, I suspect domain speculators are sitting on crazywire.co.uk and/or .com/ etc.)
Also my shopping baskets there and fasttech quickly hit . . .coughs too much damn money, so I jsut said to hell with it all and backed away slowly to my antiquated alien and juggernaut and regular old 316 SS wire.
You can see my make of the expansion thingie here, or the main thing here.If you've got a 3d printer and some 510 stuff, have at it. All my RDAs have threaded holes with weird mouthpieces except the wismec inde duo, which fits 510 thru the. . emm. . .cap's cap? Dunno what to call it, the plastic mouthpiece bit. And 810s fit the sleeves' cap. I dunno what's going on with my tsunami and velocity models – I did have a goon and a couple goon-likes at some point, but the posts broke on all of them over time. I had RTAs, most of which experienced some kind of messy failure before I was like "You know what? I'm good with dripping."
Did I have a point?
Probably not. . . crazy wire's stuff so, like, what should I try? Looks like Wire mesh, which I just remember being a preorder for one atty a couple years ago, is a proper thing now – and there's flat, and ribbon and square, and whatever a parallel coil is, or caterpillar tread for that matter – and regular wire is now called "Round wire". The default had to get it's own name so much has changed! XD
I've got a Wismec Reuleaux mod that's going strong (from back in august) but I dunno how it does for temp control – I never had much luck with temp control so I just use kanthal and, what SS I bought, on VW/power/whatever.
How ya'll been?
My beard gets longer than it used to.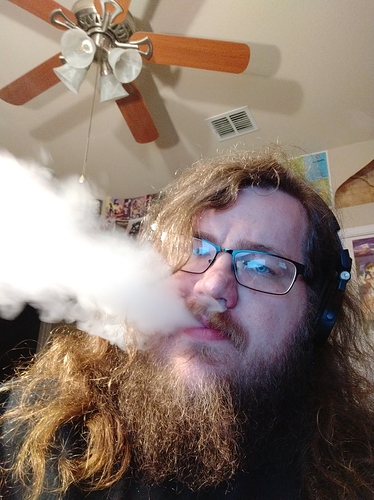 Maybe, by the time I'm 40, I'll have a proper beard.
Edit: You know what started all this? I invented a (couple ) reusable medwakh (dokha tobacco pipe) filters, because, apparently, that didn't already exist. And, then I got sidetracked, because I'm on vacation XD
Edit 2: I joined in may 2017, and do was basically done stockpiling by july or august, I bet, so it hasn't even been two years I haven't been buying stuff! Vaping is literally the only sector of the economy where innovation appears to be a real, and damned quick, thing. Well, that and 3d Printing. . but vaping seems to move much faster.