Finally i'm satisfied with this…

Any idea how Chemnovatic's vanillin compares to TFA's?
Coz that looks yummy!
Sorry to say… nope, but give it a shot

I need to try this too. Any title with vanilla in it is a magnet for me. Is Virgin Vanilla a clone of something or your own creation? And where can I get V-100 these days?
Would you let me know how that works out? Is V-100 only available at RS?
This is a Polish company i think. I don't know where else to get that but i believe vanillin is vanillin just like sucralose will be the same for different companies… the difference with TPA will be in strength so you could try yourself with different percentages.
I am going to give this a shot but I still have about half a liter of custards and creme anglaises to go through before I'll get to this. At about 10ml a day consumption, it could take a while before I get back to you, especially since I don't vape 1 juice all day long.
I can't see any problem trying another vanillin.
I bought this in UK somewhere, but can't remember where at the moment.
But go for it and make it ur own with another vanillin, can't be a problem
Ohhh I bought it here together with some pure nicotine… Old brain u know


They have some really good nicotine and some of their flavors is good to.
https://b2b.chemnovatic.com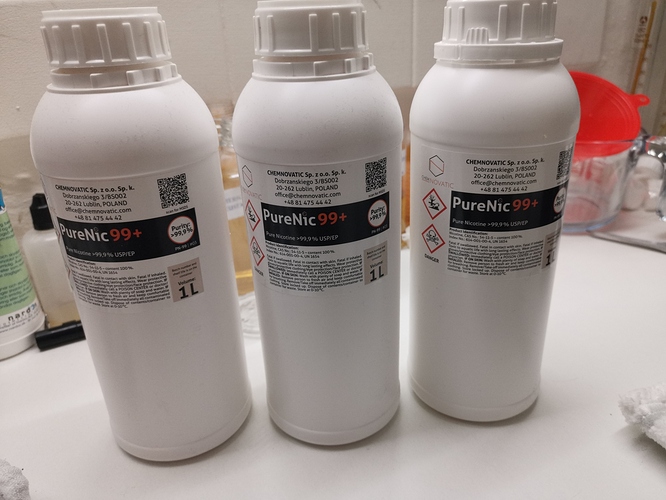 Question: So what's the real difference between vanillin and other vanillas like Vanilla Classic (FA) for example?
Feels more concentrated, tasteful and natural

YUM !!!

No doubt about u as a vanilla freak, need to have some Vanillin

@BigDisplay just received a bunch of these from @BullCityFlavors, and even after registering on Sobucky's B2B site, no information is given about the flavors. Do you have any info on the usage rates on them in general ?