Are you looking for a portable, easy to use, pod-style mod.
Paying attention; the VOOPOO Panda is the mod to cater to all of your needs.
Now let's check out the cutest Panda Pod Kit.
With an ergonomic design and lovely appearance.The panda is a well-known symbol of Chinese culture. also most adored animal in the whole world.
The VOOPOO Panda is inspired by its namesake, using a primarily white color with black accents on the drip tip.the funny part is that fire button to simulate to be a panda's ears.
With an ergonomic design and lovely appearance. Despite its diminutive size, It is surprisingly comfortable to hold, which is mostly attributed to the rubberized finish that coats most of the device that gives it a smooth yet grippy texture that makes it easy to hold.The drip tip is comfortably shaped to provide an ergonomic mouthfeel and the insulation works well to prevent any heat from the coils transferring to the lips.
USB Port–The bottom of the device showcases the micro USB port used to charge the internal battery . It works with a built-in 1100mAh battery so you will enjoy a long-lasting vape time after 1.5 hour charging.
Nicotine salt + Regular E-liquid
The Panda Kit comes with two pods for different juices, one is for Nicotine salt and the other is for regular e-liquid. Just grip the VOOPOO Panda in your palms for an on-the-go vape!
Due to the MTL design, the mod works best with concentrated e-liquids. Flavor production is more than satisfying. The flavor and performance of the pod for salt nic was very good–possibly the best that I've gotten from a pod system
Ease of Use
Getting the VOOPOO Panda set up and ready for use is fairly straightforward and hassle-free. After the mod is done charging via the included micro USB cable (which should take about an hour), simply pull off the white protective cover, remove the pod which is affixed magnetically, remove the rubber seal at the bottom of the pod then proceed to fill it with your e-liquid of choice.
With dimensions of 75 * 47.5 * 27.4mm (height, length, width), the VOOPOO Panda is as portable as can be and it easily slips in and out of any pants pockets regardless of the pocket's size. The smooth and seamless ergonomic shape makes it a pleasure to hold, even for long and extended vaping sessions, and the firing button is perfectly placed within easy reach.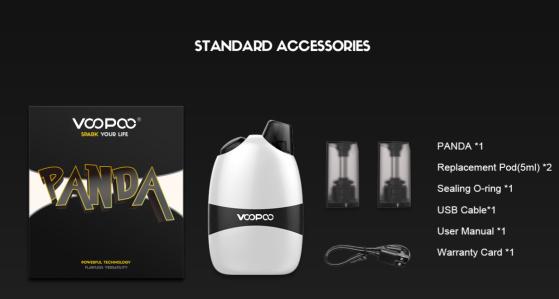 Overall Experience
The VOOPOO Panda is a portable pod kit for starters. With built-in 1100mAh battery, the Panda will be a delicate pet in your palms.
The VOOPOO Panda definitely has a lot of things going for it:
adequate battery life
an ergonomic shape
a strong battery
reliable vaping performance.
More Details: http://en.voopootech.com/panda