Do you know that VOOPOO has released Rune RDA? Rune rda is VOOPOO's second RDA. If you don't have one, let's check the §review below!
Specs:
24.6mm Diameter
Four-Terminal Postless Style Build Deck
Side Mounted Flathead Screws
Stainless Steel Plated Deck and Screws
12mm Deep Juice Well
Dual Port Bottom Feed
Interchangeable Squonk Pin
Adjustable Side Airflow
Four Bottom Air Ports
Two Per Side
4mm Wide Each
Gold Plated 510 Contact
810 Resin Drip Tip
510 Drip Tip Adapter
Design
There's a Large build deck with four adjustable sideling airflow, the sideling airflow tubes lengthen the distance of airflow for a better flavor.
Both single coil and dual coils supported, it's your choice.
And substantial juice wells making it suitable for both dripping and squonking.
What I love is the One-step coil insetion,which is very surprising for rda beginners.
Build Quality
The build quality of the Rune is very good. All of the Stainless Steel construction feels solid, and the threading on the 510 pin is nice and smooth. The gold-plated BF pin also feels very sturdy.
Performance
If you tried Rune rda, I believe you'll be impressed with it's performance.
To be honest, it may not be the best cloud chucking RDA or the most intense flavor producer, but overall it still does an excellent job at all of those aspects.
All Builds 2.5mm-4mm ID. There is room to go bigger as well, much bigger, could easily fit a 5-6mm ID but it really works best with a 3.5-4mm ID. Smaller one's didn't work as well and seems to lose flavor. You want your coils to cover up both air holes. Height wise, you want to drop it as low to the air as you can. The higher up the less flavor came through. Overall flavor can be really good when built correctly and just decent when not. It's not made for a lot of wraps or small ID coils.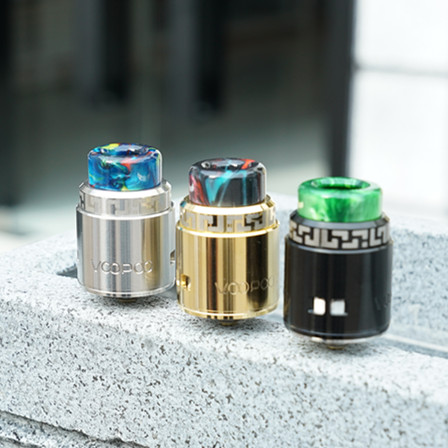 What's in the Box
1 x RUNE RDA
1 x 510 Adapter Ring
3 x Seal Ring
1 x Stainless Steel Hex Socket Screw
3 x Slotted Screw
1 x Slotted Screwdriver
1 x Hex Screwdriver
1 x User Manual