Home made pepperoni, bacon, grilled BBQ Chicken, with mushrooms, fresh mozzarella, provolone, and parmigiano reggiano cheeses.
How bout everybody else?
Leftover Chinese food from the restaurant down at the end of my road. Started mixing late yesterday afternoon and hadn't pulled anything to cook for dinner. Gotta have those priorities straight right? I've been trying to mix for the last three days in preparation for medical shenanigans next week, so mixing pushed cooking to the curb.
Your dinner sounds a bit better than mine!
I'm not in the same economical bind as you and i don't have the means to have such dinners. Life must be looking up for you with such meals and also new tanks on the way.
Homemade chicken fajitas. Nothing better than using things you've grown yourself. (except the chicken. I don't feel like putting THAT much effort into fajitas. Now chicken and dumplings, heck yes!!)
Yeah @GPC2012 how is Oso doin I haven't seen an update for a while…?
Most everything but the dough is out of the freezer and as for the new tanks well not yet, and it will be TANK the best I can afford for the money I have to spend. Not a matter frills a matter of hard to find Maganus coils when I do find them they're getting expensive since they don't make the tank anymore
Goopen Slopen! Venison burger mixed in with this, that, and the other, cooked over a medium heat on the burner.
Just eaten some roadkill, gotta go, holding up traffic…
Been since forever that I've had venison or elk. Damn you make me hungry
I gotst to ask which of the following pics are dumplings.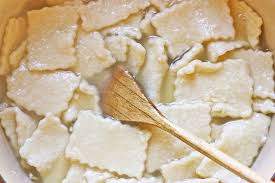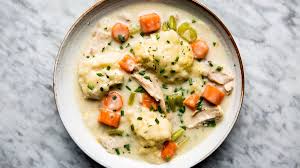 The second one is dumplings
Damnn right it is. You were raised right. Sorry assed flat excuses for dumplings.
The second one, of course. If flat pieces of boiled flavorless dough is "civilized" dumplings, I'll just stay on my mountain!

My grandkids know better than to fall for that one… anymore!
Note too self: never, NEVER, eat dumplings made by @Mew!

That's like watching a train wreck. You don't really want to watch but you just can't tear your eyes off the horror that gonna happen next.
Now I need to bleach my eyeballs.