Alphabetical house then alphabetical flavors. 11 separate racks surround me.Only 1 rack I have to get up to pull flavors from.
Well look at ur organized ass. Lol jk. My flavors seem to be kinda almost in alphabetical order i had them organized by desserts then fruits then bakeries and so on but it was getting too hard to find certain things when needed. But since trying alphabetical its been alot easier. Took me long enough and enough frustration.
My mixing table is just torn apart…i cant fit my baby finger on that desk! Ha!

P.s. no clue where im putting any more either lol
Went that route too when I had less flavors. My wife is a clean freak and a place for everything kind of person. She said spend the money and I obligingly said ok. Able to mix quickly and put away just as quick.
I'm not looking to add. Have flavors that I never broke the seals. Looking now to maintain. Over 500 is too much.
Thats true now im finding out the hard way. I just want to keeep up what l like. And i need to get my inventory right ffs! Ordered a 3rd cornish cream ssa cuz I didnt realize i already had 2 …love that cream tho. Shit it's good. Same with clotted cream. Yum!
Don't kick yourself. If I had 50 cents for each dupe I ordered I'd have 20 more 30's. Have duped 120's. I'm a push over when close to free shipping.
I can't agree more @rcleven. Yeah, you COULD make 26,000 different recipes, but WOULD you ??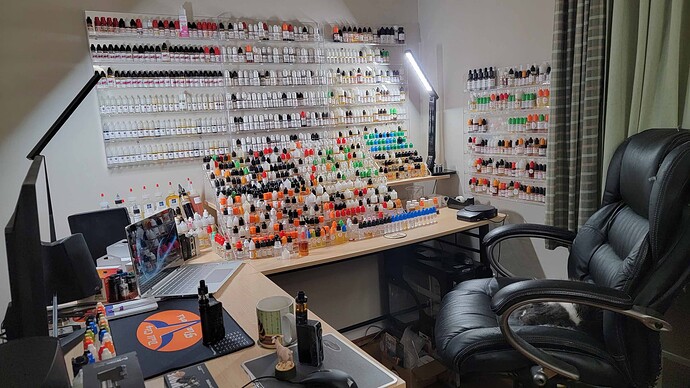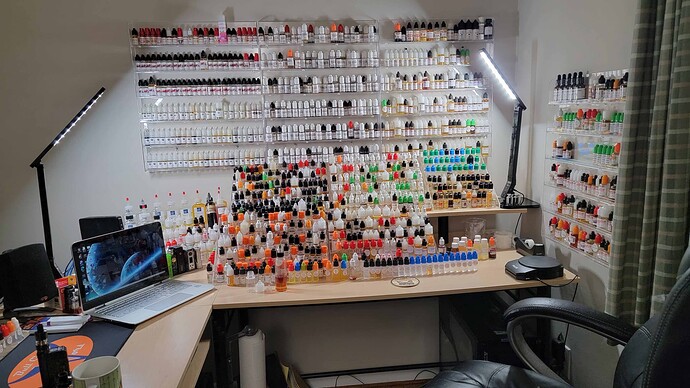 There's just a pile of mandarin peels
Looks like you need another chair. One for you one for your mixing partner.
Yeah, that's what it looks like.
That'sa nice stack of VSO's in there.
Thankfully only mixing the newest releases this time around lol I get ahead of myself and "fagitaboutit" Lol I'm sure it's worse for you with everything you test, so I'm sure you can relate. the only thing I didn't mix to vape was the food flavors. I made a small 10 ml batch of broth this for those in warm water.