I wouldn't even know where to start installing coils in that thing.
Odd that they dont tell you diameter anywhere…
@SessionDrummer lookey here

️
Another Steam Crave we can each add to our collections

Oh hell yes, Sugar Rush all. day. long…
It looks like it's approximately 42mm in diameter

Holy Guacamoles! What is that, a triple coil postless config? Be a few reviewers on the tube pee themselves over this one…lol.
What they need to do is make is 24/400 compatible so i can drop an 8oz Boston Round on it.
Gunna be all over this one when i can get a hold of it.
Need a mod with a 24V power pack to fire it, maybe Dewalt or Milwaukee Tools will get into making mod.
Or maybe d00ds dream tank has arrived…
Oh i have the perfect mod for a 41mm tank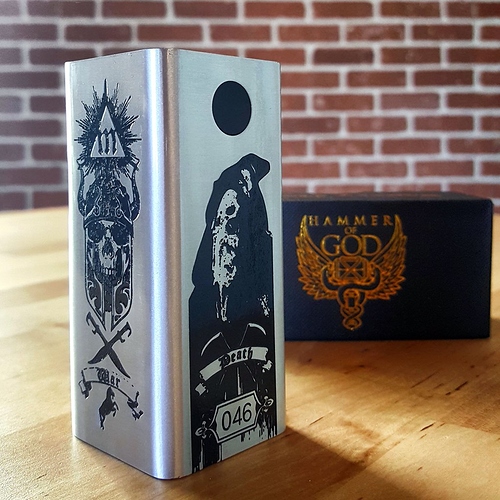 which should get here this week - been hanging out for it to arrive.
I was just wondering what the hell you'd put a 41mm tank on!
Probably need 1.21 gigawatts to get a wisp of vapor. Great Scott!
Subtanksupply just informed me that he will attempt to get some of these at the end of the month however he added that steam crave is usually behind on their ETA.
Funny, great minds…I was thinking this be fun to play w/ then what mod and hammer of god was first to come to mind!

Seriously … how would you power all those coils?
Edit: I just preordered one so I guess I'll find out

I Like the series ability on the deck, might just look into it when it actually gets put out. I was just pondering that idea to see if I could cobble together a deck I already have to run series. This one looks as though there is plenty of room to build huge coils.