I do have one and yes mine has a gap at the battery compartment , mine is slightly wider than yours.I never noticed it until I was forced to look.
Gee Thanks!


To be honest I may have bent it out when I first got it , I was used to battery screws being used in older mechanical mods to take out battery slop in order to get a good connection.I no longer use the screw and have thought about pulling it out. I have to check the screw every time I replace the battery as I have had it back out a few times.
I will say I wasn't very impressed with this mod until I bought the new iJoy 26650 batteries , they are much better than the green Efest I was using.
Here is a pic.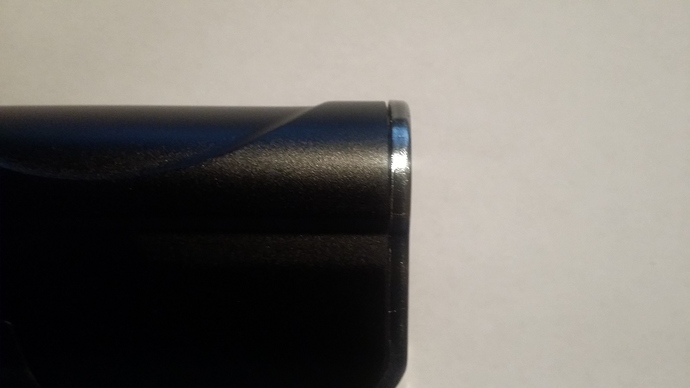 Yep, the frame is too weak to handle the screw tightening, it should have had a brace, poor design, I don't even know if I can come up with a fix…

I do know they come apart fairly easily if you just want to tighten the gap but I don't know any way of making it stronger.
The green Efest kept giving me the "weak battery" error's even when fully charged and I had read that tightening the screw could help…it didn't.


Now that I am using the iJoy's I no longer get the message but I guess the damage has been done!

I've got the Nano and it has the same issue to a lesser extent, it's mostly just due to poor fitment/machining on the casing.
Thanks for letting us know , I have thought about purchasing one of them as well but I kinda like the magnetic closure that I have on my SDNA 75's better.
I now wish SDNA would make a 26650 version and for all I know maybe they are!

I wrapped the top of mine with carbon fibre and don't want to remove it
I think this one had been used before as the screw your talking about is marked and super tight, there was also a lot of wear on other parts, I won it though so can't complain…
I have an ijoy 26650 coming, if I find a fix I'll share asap
Thanks for the replys
Just to confirm, my VT75 has the same issue. To even consider correcting it, I'd have to take my wrap off, and that isn't gonna happen. Bending the frame back will obviously only be a temporary fix, and eventually the metal will fatigue and fail if you keep putting it back and over tightening the cap / contact pin. Other than some permanent assembly with some jbweld, I don't see any avenue for a fix, there just isn't enough material there to work with. The contact pin seems to exacerbate the issue, so I've taken to keeping it backed off completely as @BoyHowdy mentioned. Another thing I notice is the 18650 sleeve also contributes to this issue because you have to tighten everything up so much to get the rattle out and the cap flush. I'll have to try these iJoy batteries, but this mod is primarily a backup for my vt133 so i'm not in a rush. What is the best place to get them?