Howdy Fellow mixers! Let's do a giveaway!
To celebrate the release of FlavourArt's Pazzo one shots on the 28th,
ecigExpress giving away the full collection in 30ml bottles to one lucky mixer!
Simply state the flavor that appeals to you most in the comments below!
Winners will be chosen via randomizer, Monday March 5th, 2018.
Good Luck and Happy Mixing!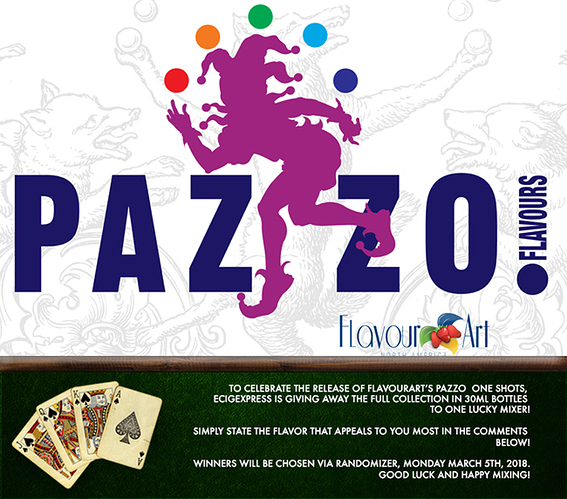 REGINA:
Imagine if you could that somehow the color red had a flavor.
Queen is a beautifully bright and fruity combo sure to please the tastebuds!
RE:
RE (King) is a soft chewy black currant candy with a light sugar coating.
Burst in your mouth flavor with no floral notes.
ASSO:
Asso (ace) is a delicious medley of tropical fruits from around the world.
Sweet and mysterious, sail away to a bright and refreshing tropical getaway!
JACK:
Jack is a bold and sweet strawberry flavor that will put you in mind of your Grandmother's candy dish with a sweet crunchy outside and gooey center.
It will satisfy your sweet tooth all day long.
BURLONE:
Burlone (joker) is a favorite dessert made into sweet little cookies.
Burlone is our representation of a delicious cannoli in chip format!