Congratulations to @Dan_the_Man #12 is the winner of this giveaway, pls PM me your shipping info. Thank you all of you join our contest. Wish all of you Merry Christmas and a happy New Year!!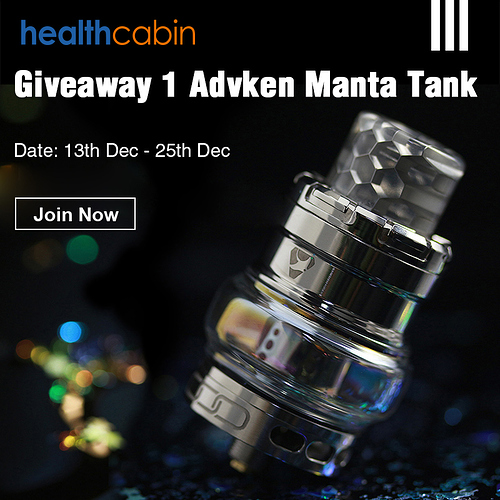 Dear Fam,
Happy Christmas, HealthCabin is offering 1 Advken Manta Mesh Tank for celebrating xmas eve, this event will end on 25th Dec and announce the winner on 26th Dec. Free to win!
Giveaway Prize:
1* Advken Manta Mesh Tank
The Advken MANTA Tank is a 24mm subohm tank with beautiful honeycomb design. It has large 5ml e-liquid capacity to avoid frequent refilling and adopts sliding top cap for easy filling.
How to enter:
The Two Word Game.
Take last word from the last post and add a word.
No back to back.
Example:
Blue paper
Paper bag
Bag house
…
I'll start the game off with the words
Note:
A 5 comments at most and number it, for example #1 ….
B 1 winner will be randomly selected via rondom.org on 26th Dec
More giveaways here
Join now!!