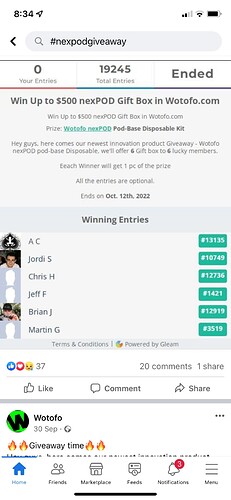 I entered the wotofo nexpod giveaway and lucky me i was a winner #1421
https://m.facebook.com/story.php?story_fbid=pfbid029dyeLY93TSi4YxmvkoBgrPhi4B4BqVzr6yyfev3NB2j5eqQwJZBiosC9zdk4JfDAl&id=100064811944025
Thanks bud. Seeing i never win anything i enter on these pages its kind of cool
Congrats @Psycho_316 glad to see you moved OUT of the camp, I still currently (and many of us) reside in. The camp of NOT winning.
Congrats !!!
Thanks SD its kind of cool to be one of the 6 testers. Im not a fan of these things because i like building and making. As for being worth $500 its a stretch. That would be expensive as hell pods and juice



I miss the competitions here

Rawk on!

Does wotofo not ship to where you are. I was sure they shipped worldwide. I came across the promotion on their facebook page and was like ill try. Not like ill win. And i actually won it visiting their youtube page lol

Way to go, hope it something you can use, i won a voopoo pod system a while back anyway, I'm glad to see who beat me out for once ,


Congratulations mate, you might be on a lucky streak.

Yeah that might be a stretch but right now i can be positive. Lol
Im gonna give it a honest try. Who knows if i like it ill just bring that with me when i go out. Gonna be light in the pocket. I have 18 experimental disposable pods to see if i can take them apart and put my own liquid in them lol
I haven't looked for comps elsewhere, just reminiscing

Right on bud. Awesome when you win. Shitty when you win something that is not your thing (iciness)





Nice! The flavors in the box are pretty good. I like that Wotofo added in the tobacco ry4, and that some of the flavors are only lightly cooled. I've been a tester for Wotofo for a couple of years now and this system is a LOT better than some of their other disposables they came out with last year. I use mine at work everyday. Convenient and stealthy. Enjoy!
No i dont think so