that almost makes me want to get a mod big enough for it to fit.
They have another one for pre order there that looks pretty good. It looks kinda Valhalla-esque.
It's 25mm which I like. For some reason 24mm RDAs look goofy sometimes on my mech mods.
Lucky for you, we got a couple of guys who would be more than happy to talk to you about that LOL
Intriguing airflow on those decks. I'm gonna have to look into those. Thanks for the heads up!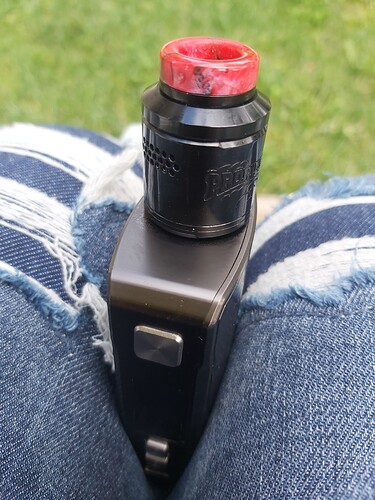 I'm just getting to know this one …and it's damn nice. Now there's a dually? When I lit my mouth on fire it was 100% user mangled. I had not nearly enough cotton in it since that fuck up its been a nice rda to work with. It makes me happy…


the thing is I got a 0.15 mesh in it and I'm running it on a 200w freemax maxus at 40 to 44watts. The coils came in a plastic container no specified wattage to go with…anyone know if that's where I should be?
I like a cooler vape. Any of the mesh strips that come in .16/.15 I vape at 35 watts. It suits me best.
you gotta try stainless steel in tc
.15 is probably Kanthal btw… profiles OG strips are .18 & are rated @ 45-60 watts… so right there should be quite fine to me… u could probably go up tho… if u wanted…, u don't have an ohms reader?
I usually use the SS mesh at about 50 -52W max, but it depends on the juice. Lighter fruits, I'll usually drop it to 45 - 48W. Usually the kanthal mesh is about the range you're using
IIRC. If you're curious, try upping the wattage by 1 or 2 watts at a time and see what you're comfortable with. Just make sure you got that coil saturated! Don't want to kiss the devil.
I've already done that…apparently it was quite something to watch too! My bf said he saw me spit fire! Lol!


Is there a TC Mode on any vapes for the material I'm using? If so what's the setting?
There is no TC mode for Kanthal as it is not a material that allows for consistent temperature measurement.
I wonder if that sleeve would fit the boxer dual battery squonk clone I have. it looks pretty similar per the pic. Can you tell me where you got that cover? Thanks

Make sure you are aware that the squonk mod has a 4.2 volt limit. I was looking at it, but once I saw that, nope!
You may have already noticed it, but I wanted to point it out just in case you hadn't, and it could be a deal breaker for you.
Yeah, I hadn't and since lately there's been lot of that it really turns me off, leave out a $1 boost chip… Voopoo really bummed me out with that cheap shit. But in this case maybe it's to make it all fit in a tiny package. Still, bad taste.
Thanks Deb!
I can't recall the name of who made the sleeve, I am hoping it is written on the sleeve itself as I bet that company makes one for the boxer as well.
Just googled it and pretty sure this came from https://www.themodshield.com/ I have never ordered from them but a friend did and pretty sure this is where he ordered from
Thanks so much. I will go browse and see if I find it!