Hello, what toffee, caramel, nougat and grape flavor and his brand you can recommend?
INW milk chocolate
INW nougat
FA Caramel
EQUALS a MILKY WAY candy bar yummy ty for the inspiration

Yes
Yes
Yes
Butter Toffee (SC) (Real Flavors) or Toffee (Flavorah) or combo of the 2
While I am not really a big fan of grape a few of my customers are. The lest horrid to me is Real Flavors (but I am only comparing to Grape INW so it is not much to go on)
now i just need to get some milk chocolate v1 ugh , i wonder if i could find it here in the USA
Ya it may be difficult - i will be giving away a 4 bottles soon.
But I can tell you now NR has the new version - I would try some of the smaller vendors if you can find one. Ask them when they got it and if they are happy to do so send a picture of the actual bottle. The new one is really dark to the point of not being able to see through it the old one is translucent brown.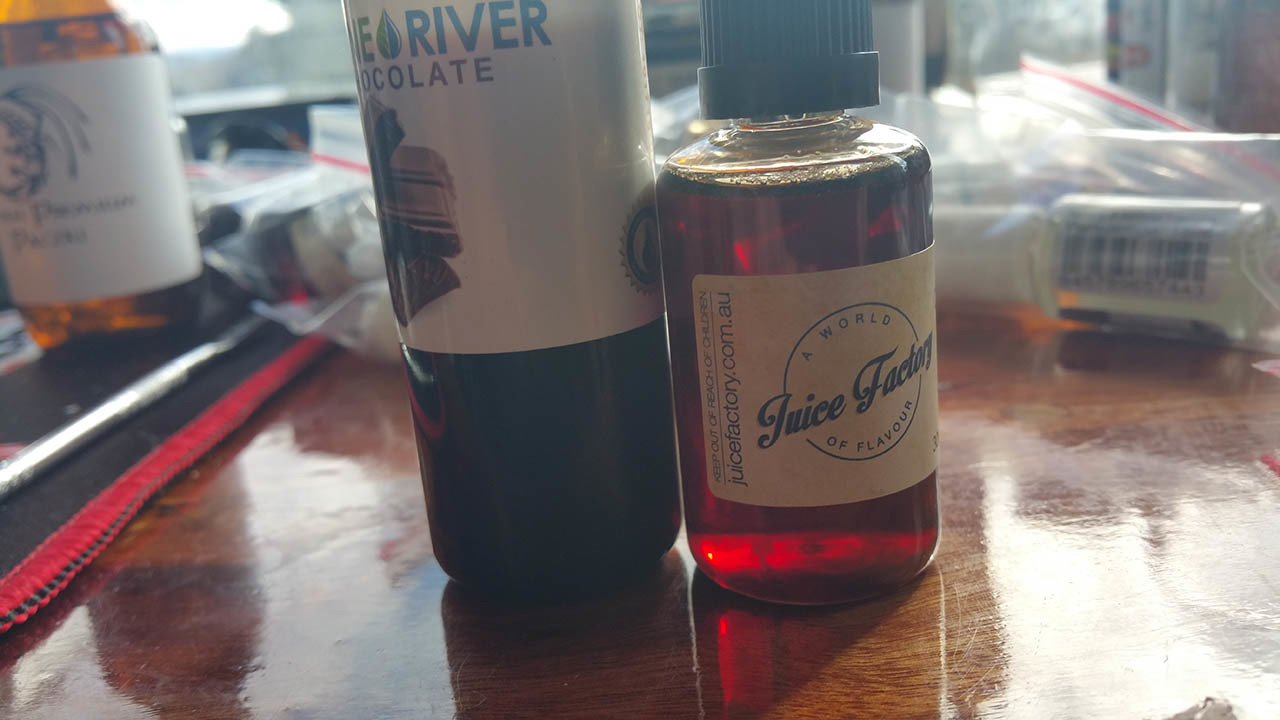 It is still available here in au at 2 locations if you need the details one has only 10ml bottles the other has 10 x 30ml bottles left
Sorry for the derail OP - @fidalgo_vapes how did chocolate sneak into this lol
lmao yes sorry as well , i have no clue i just immediately thought of making a milky way vape , so i replaced the toffee with chocolate lmao ooops
yes if you could pm me i would love to see what it would cost me to ship a couple bottles , im not a big chocolate guy so a couple 30ml would last a lifetime please pm info ty
Butter Toffee NF
Caramel MF
Nougat INW
Grape MF/ FLV
@fidalgo_vapes
What is a working % you have found for the INW Nougat? I thought I was one of the only ones around here with that on hand! Haven't had much luck with it, but after your milky way comment, mmmmmmmm, yes! I have a reason to work with it again!
I don't see toffee (or caramel) in the ingredients, but I know for sure there is caramel by the description:
"The American version of the Milky Way bar is made of chocolate-malt nougat topped with caramel and covered with milk chocolate and sold as the Mars bar everywhere else."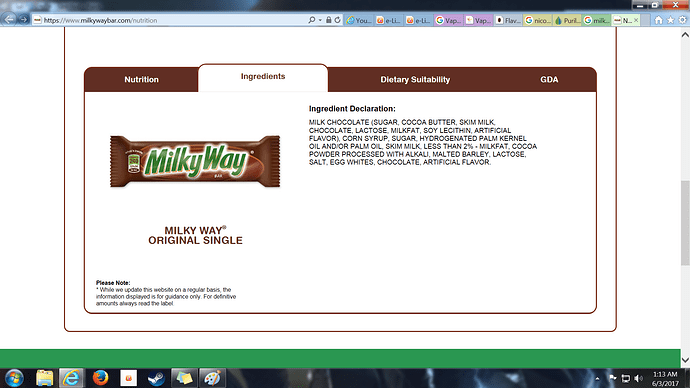 Don't forget the malt!
i shouldnt have opened my big mouth , lol , i havent even used it i ordered it because of a recipe that i found and lost but after i order this INW Milk chocolate ill start using it to figure out the milky way , then the milky way milk shake oh im so inspired again sorry for derail
if i remember the recipe correctly it was some kind of blueberry custard by darthvapor and the nougat was very low
very good i wouldnt even have though about malt
Most i have used it at is 1.5 but it is pretty strong and i tend to go lower usually around 1% or less
I tried putting my nougat in a cookie recipe and it did not. turn out. well. Haha, putting it in a candy bar recipe would be much better
Looking at the database, there appears to be an FA Nougat as well but there are only 6 recipes, so I think we already have the best one, on hand.
If the amount of recipes decides whether a flavor is the best or not i would have to believe with that logic of yours that TFA is the best there is in any flavor.
Well, if I have a recipe that is bad, I personally delete it thus removing a count from the recipe slot. Unfortunately, not everyone does this…
Say what now why delete why wouldn't you tweak? Each to their own I guess.
My votes would be:
Cap caramel
MF caramel
(a mix of the two actually)
Ina nougat
Can't comment on the toffee or grape. I've tried grape concord (FA IIRC) but haven't got enough time under my belt with it to have formed an opinion.